Discussion Starter
•
#1
•
I just wanted to vent about this to someone...and who better than other dog people.
A friend of mine, Lauren, was dating a guy named Chris 5 years ago. He bought her a Blue Merle Great Dane who she named Sasha.
They broke up when Sasha was a few months old and Lauren had put hours and hours of love and training into her. They broke up due to Chris cheating on her. She was living with him in his house and she was working and going to College to be a teacher....with me so far?
Lauren could not take Chris cheating on her so she moved out to a dorm with the understanding that she would be picking Sasha up in 3 to 4 weeks. Well, when she went to get her dog he would not let her have Sasha. He told her that his "girlfriend" (the chick he was cheating on her with for months) liked "the dog" so he was keeping her!
Lauren even talked to Law Enforcement to see if there was anything she could do. It didn't end there....for 3 years after the break up Lauren would still inquire about Sasha and see if there was a chance to get her back. Chris would never agree.
Then on Tuesday I get a text from Lauren saying that Chris called her and told her that he was losing his house and was moving to the beach. He said "If you want this f**king dog you better come get her or I'm taking her to the pound!" Lauren is now living in a place that she can not have a big dog. She was freaking out cause she knew Chris meant it and that he would just dump Sasha. She asked me if I would PLEASE take her! Even after 5 years she could think of nothing but Sasha's well being!
And so.......now I have a Great Dane!
Meet Sasha.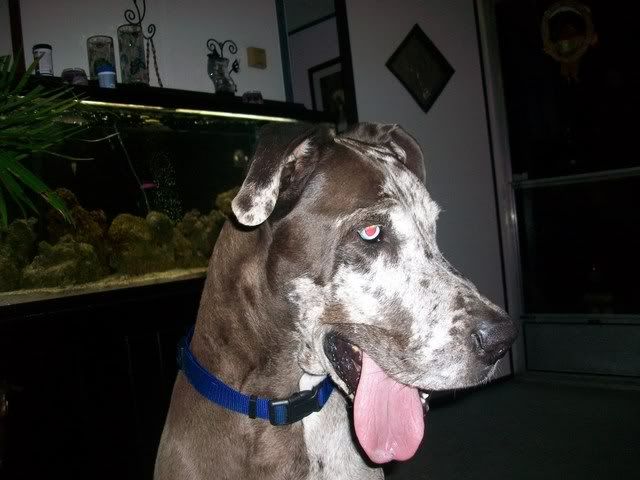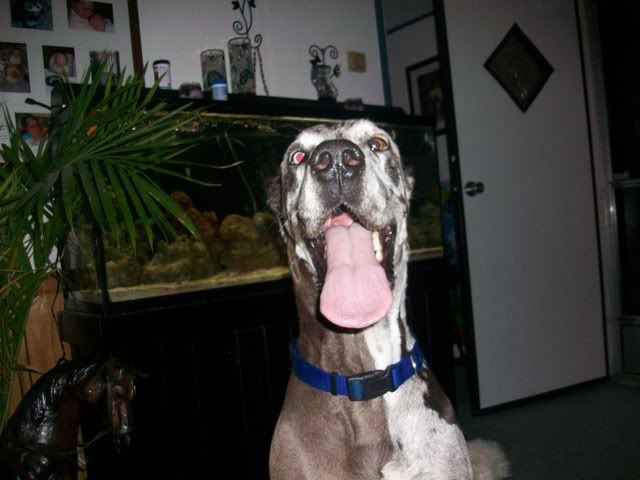 with Shamus...