Discussion Starter
·
#1
·
and it wasn't me and Paris. haha!!!
Ok so we had a local obedience, rally and agility show this weekend. I entered rally & obedience, jak entered everything. lol.
I admit that our heel work WAS better than it has been on our obedience round on Saturday, and we DID end up placing 4th in our class. Jak & Saffy did awesome and won it (the same class).
Rally was a TOTAL flop. I don't do Rally training (hmmm, that may have to change now! LOL) I just go along with our obedience stuff and we make it up as we go along. The distractions on the figure of eight were stuffies poking out of plastic containers. I *just* managed to get her to pass it by the first time around, but of course a figure of eight passes back through the middle again, and she simply couldn't resist..... She DID do a very nice tight 'sit at heel' for me while I was standing there frowning at her (trying not to laugh) cos she had the tip of the stuffie in her mouth and the whole container it was in was dangling down infront of her.... "looookss what *I* found mum!!! LOOK! Can I keepz it? Pwweeeese??" *sigh*
Jak won his class. (take note, this is now two wins.)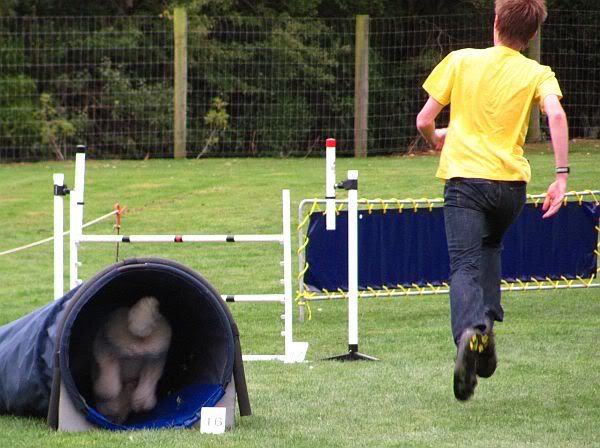 Sunday dawned, and Jak had an agility run first up in the morning, which he promptly won with over a second ahead of the nearest rival (a second in agility is a LONG time! lol) AND it now means he's 'won out' of starters and has gone up a level!!!!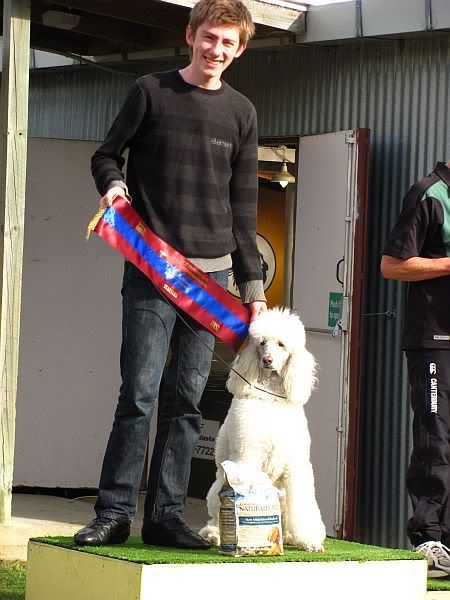 Obedience comes along again, and we're hanging around outside the ring because we're the next team to go in, and a guy who Paris has met once before at work comes up and says hi, gives her a ruffle on her head and heads off again. He's a big guy with a big black beard and he does give off a weird 'vibe', he also has his arm in a sling. Anyway, for whatever reason Paris panicked and was seriously struggling on the end of the lead to get AWAAAAAYYYYY from him. He didn't realise cos he was already on his way, but she was seriously creeped out by him, and then spent the rest of the next half hour or so looking around the place with her tail down and eyeing up every male with deep suspicion. Focus on me? Pffft! Yeah right! The judge happened to be a man too, so he got side-stepped by Paris in the ring, and we just turned it into a training round and I worked to keep her happy again (didn't work very well) and didn't bother trying the stays or anything; I don't want her failing!!!
She is fine now, she just got the creeps then was all... Hmm.
Jak won the class. lol!
Sooooo, in the end Jak won 4 classes, he also got a 4th place in another of his agility classes, me and Paris did get a 4th place, but flunked everything else. lol! So yes, SOMEONE had a successful weekend, it just wasn't me! LOL
Some more pics from the weekend:
Brickie the griffon (belongs to Jos on here!)
(more pics)