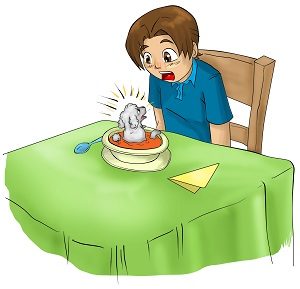 Waiter, there's a dog in my soup
There's a doggy in my soup dish.
There's a canine in my cup.
The waiter brought a bowl out
and I found this grubby pup.
His fur is simply sopping.
He's wet from head to toes.
He's got some peas upon his paws
and noodles on his nose.
He doesn't look too happy.
His eyes are filled with tears.
Or maybe that's just chicken soup
that's dripping from his ears.
I'm sure I asked for noodles.
I got this dog instead.
I wonder how this happened.
Was it something that I said?
I guess I must have mumbled.
I'm such a nincompoop!
It seems the waiter heard me ask for
Chicken Poodle Soup.
by Kenn Nesbitt, author,
"I Could Chew on This: And Other Poems By Dogs."
​
1) Poodle Poetry - If you would like to enter, you may submit 1 to 3 of your own original poem(s) with 1 to 3 photos of your poodle or poodle mix. The poem(s) can be rhyming, haiku, a limerick, free verse, and so forth. It/they can be short or long.
2) Caption Your Poodle - Unleash your humor as you caption your poo in a photo. You may use 1 to 3 photos each with a caption, or up to three photos that tell one funny story.
Come by, take a look at our entries, and join for the sheer fun of it.