The visits to the nursing homes went very well this morning. We visited three homes here in town we had the option to attend a fourth but were just to tired and the dog's were really zapped.
Two of the three places we have never been and the third is the same place that we went to at christmas. They are the ones who requested the dyed poodle lol.
Everyone loved the dogs of course and Jazz per usual was the big star of the day. I was so proud of Saleen she did very very well and perhaps when she is older we can get more serious about therapy work with her. She was slightly startled by a bed alarm but other than that she was A-Ok. Wonder was a princess and sat on a couple of laps and was just cute in general for residents who didn't care to pet larger dogs.
Anywho here are a few photos of our day's adventures.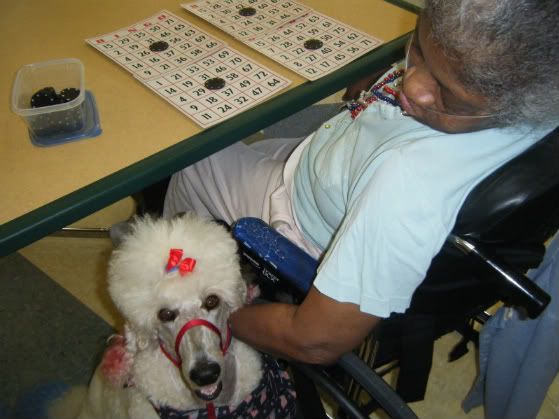 This is the couple from Christmas that Jazz seemed so attached to. Apparently she remembers them and once again they seemed to be a favorite of hers. She kept wandering back over to them if I gave her the chance. They remembered her too. They lady said " I was wondering when you would be back "