Discussion Starter
·
#1
·
Here is Violet at 8 weeks, and with a shaved face. I think she looks lovely. When this picture showed up on my phone I'll admit I got a little teary-eyed. Astute viewers will see she is in a bed decorated with- violets!! :dance2: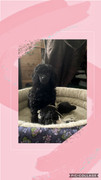 One week from today, after a night in the sleep study lab (and probably still with glue in my hair), I am hopping in my car and zooming away to pick her up. Husband will be driving.
Yesterday I rearranged my living room and set up her puppy palace. Thank you to Twyla, I pretty much copied what you did for Leonard. Navy was very concerned about all this rearranging. He gave me a lot of quizzical looks, and marched around in the palace doing an inspection. He decided he did not want to stay in there himself, but it would be fine for a puppy.
Next Saturday I'll set up her crate on a table in my bedroom so we can sleep eye-to-eye. I'll also set up her x-pen in the backyard where we will undoubtedly be making hasty, sleepy trips in the dead of night to tinkle. Lots of other x-pen trips, too, but the nighttime trips loom large for me.
I have recently discovered that both my breeder and my husband are concerned about my taking a puppy without complete vaccinations to puppy class. I did not expect this to be an issue, so now I'm flummoxed. Any advice, PF? Her first vet visit will be the day after I get her, and I will of course discuss this with my vet (who has a mini poo herself).
Violet will be nine weeks old when she gets home, so I will have three weeks of her critical socialization period that I'm responsible for. I have LOTS of plans for this time, but three weeks is an incredibly short period to cram in all of things I have ever seen recommended. I expect to be very busy! But also, I just don't see how it is possible to cover everything that I've seen recommended. How to prioritize what to do everyday (grooming desensitization, potty/manners training, exposure to novel things) and what is okay to do once (exposure to skateboards, for example) and consider it good enough.
Could I be anymore excited? I DON'T THINK SO! :elephant: