Discussion Starter
·
#1
·
ok, as requested here is some pics of Paris in the german trim. It's becoming a more and more popular trim around the world at the moment!!!
It is essentially much the same as all the other generic poodle clips (lamb, modern etc) except the key factor is having the ears shaved off with at least a 5F blade (or as much as a 15) and the tail doesn't sport a pom pom! There are two tail styles though, one is the 'carrot tail' that Paris is sporting, and is the more popular look for the general public and most people prefer the look. And there's also the shaved look, where the tail is totally shaved with the same blade as the ears (yes, totally shaved off with a 10 or 15 if that's what the ears are done with!) which results in a somewhat 'rat tail' look. It's a bit of an accquired taste to shave the tail off fully though! lol. A lot of people use it as an option if going from a pom pom tail thoguh, as the tail stalk is generally already shaved with a 10.
This is Paris freshly groomed in the german trim:
The blades I used on her in this competition:
a 30 blade on her face and feet.
10 blade on her ears (didn't shave right from the base of the ear though, or it'd cut into her reasonably full top knot!)
5F blade on the back side of her tail (back side, when it's standing up 'alert' from base to tip.)
4F on the back side of her back legs (from the pointy pin bones under her butt, down the 'swoop' to skim off above her hocks)
and the 5/8"HT blade along her topline (spine)
The rest was hand scissored.
I used the blades on her primarily cos I wasn't confident I could fully hand scissor her in the time I was alotted! lol The blades meant it set some lengths for me to work from!
And here are a few other angles I got this afternoon (taken in the small yard at work after I bathed her)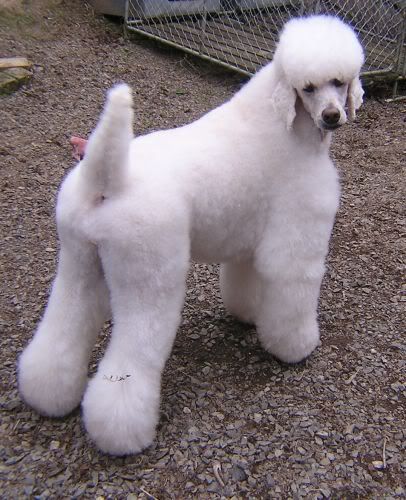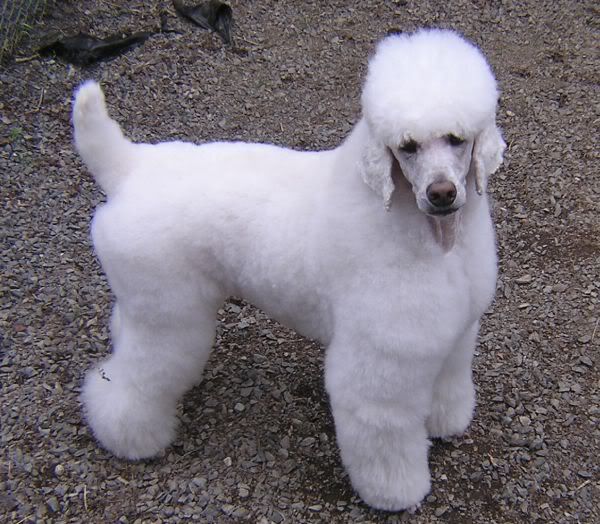 note that it's been a few weeks since she was actually groomed, though I did her face & feet this afternoon too. lol.
FD