Discussion Starter
·
#1
·
Before anything I just have to say how proud I am of Jazzers! When we first got her she HATED petsmart. We met up with her former owner at a petsmart to pick her up and she didn't enjoying going into the store at that time. After getting her home, I took her to the petsmart here and she freaked, I tried again in November with the same result. She is great everywhere else she goes, but not petsmart and I couldn't pin point why. Yesterday we took her back in and not only was she perfect she seemed to really enjoy the trip! Yay Jazz!
Ok now onto the important stuff. When we brought Jazz home in October she refused to have anything at all to do with toys of any kind. After several weeks she would sort of play with a toy but only if she thought you weren't looking. If she got caught she would drop the toy right away and act like you had just threatened to beat her. The same was true for dog on dog interaction inside, though she would play with her spoo friend down the road in the backyard. We've tried all sorts of different toys and no go, she just didn't seem to know what to do. About a month ago she discovered a soft squishy ball that she would play with in the backyard, again though not really play much with and not in the house. We have speculated that she was not allowed to really play in her previous home since it was full of small dogs and it's moderatly likely she didn't really have any toys of her own and may have gotten in trouble for playing with the smaller toys. From a couple of comments her previous owner made I think she was only really allowed in the house at night to sleep.
Anyway, we've been working on teaching Jazz to play and she's getting the message. In the last several weeks she has started playing with a few of the toys we keep out at work as well as the occasional chase of the fuzzy ball in the backyard.
Since Jazz was so happy at Petsmart yesterday we decided to take her down the toy isle and see if we could get her to pick out a toy. SHE DID! She looked interested in several but when she was told she could only have one (since non of the other dogs were getting toys that day) she selected a toy that looks like a wild bird. I guess it's a pheasant and since bringing it home she has harldy let it out of her sight. She's chased it in the backyard, tossed it around, been excited enough about it for us to use it as a reward for some training sessions yesterday and today. I've taken it away for the night, since I don't want her to get bored with it and you should have seen the look she gave me when I did!!! I might relent and allow her to have it back, but we will see. My guys don't get their favorite toys free all the time. Right now she is occupying herself with a sterile bone....
Of course, I've included pictures AND a video!! Look at my baby PLAY!!!!!!!!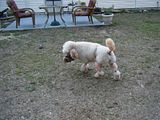 and a video