Discussion Starter
·
#1
·
At Ruby's last vet appt, the vet made mention of her bottom canine teeth (the fang type teeth)...the bottom once rest into her gums on the top. I am unsure as to whether the issue is the top or the bottom part of the jaw. the vet suggested letting her walk with a ping pong ball in her mouth, which she does anyway, she loves to carry things, sticks, rocks, balls etc etc, if she can carry it she will.
The vet said if they have not resituated themselves by her spay in June she would like to see them removed. I am hesitatant to remove the teeth, would like to wait and see how the adults come in. I guess my hope is that they come in properly. I don't know if its a jaw issue or if its the actual teeth themselves.
If I wait than she woudl need to go under 2ce, but if they remove the babies, there is no gaurantee the adults will sit right either meaning they would also need to be yanked.
The vet said that with teh bottom teeth resting into her top gums that if the tops gum gets punctured, food and bacteria can get in there making a breeding ground for infection and other gross things, obviosly I don't want that either, but I don't want her under any more than she needs to be. I understand it would be very hard to keep clean, and I understand the risk of it being infected, but I understand tha risk of being put under more.
Would you extract at her spay (in June) or would you leave them and see what happens and risk putting her under again? Is it possible for the adult teeth to right themselves?
Anyway here are 2 pics of what I am talking about.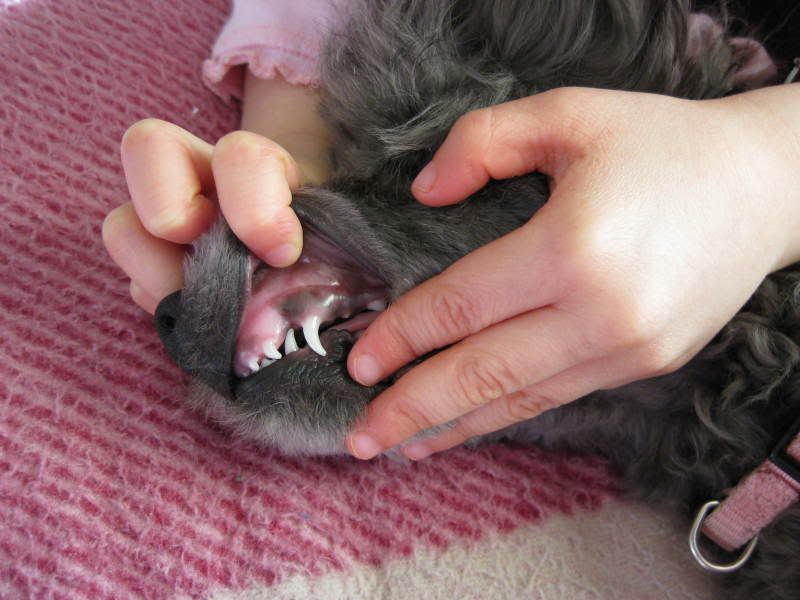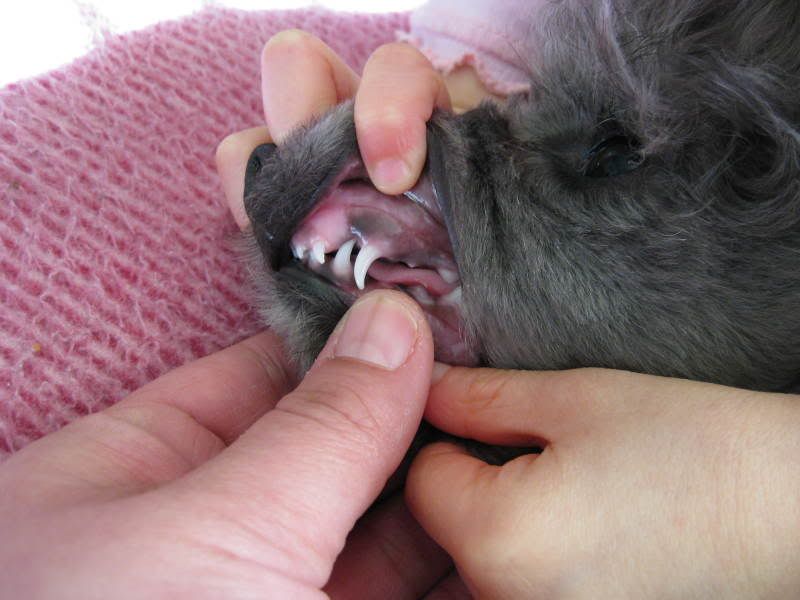 If you have gone through something similar what was the outcome? I know if she loses the teeth even teh adults she will be fine, Quincy has 10 teeth total in his mouth and he does ok (chinese crested hairless have issues with poor dentin, its not poor dental care on my part)