Discussion Starter
·
#1
·
Some owners are a pain in the butt, and some groomers are goobers!!!
I wanted to shoot myself this morning.....
I've been grooming this dog for 9 months now and we decided we would do a lamb trim until the hair on the hocks got long enough for us to put in a really nice modern. Keeping in mind of course that this is puppy hair that has just begun to change. Well I made a big mistake and was grooming this dog in my down time at home since I live about an hour from where my shop is and this lady has become a good friend of mine.
Anywho, when I moved my professional self out to where I work now I encouraged this lady to make an appt out there but she wouldn't make the drive and like and idiot I kept grooming the dog at home every other week.
Finialy spreading myself to thin with all I was trying to do caught up with me and I had to drop this dog from my client list. I explained I couldn't do her in my free time anymore, because I never seemed to have free time and she wanted her on such a strict every other week schedual the only way I could commit to that for her was if she brought her up the shop. She refused to do that, got mad, and went elsewhere which was sad but a bit of a relief.
On friday she called and begged me to groom the dog. *sigh* I told her the only thing I could do was take her to work with me on Wednesday morning and groom her on top of what I already had booked for the day and bring her home and the only reason I was offering the pick up and delievery was because she was a good friend but I would have paperwork for her to sign before I took the dog. She agreed even though she didn't like the idea of the dog being with me all day at work. I offered to make her an appt where she could bring her dog up and have her groomed straight through and sit in the shop and watch but she declined, so all day with me it was.
Soooooo I haven't seen the dog in ....ummm two months I guess.
I was soooo disapointed at the sorry groom she had been given while away from me. My friend told me she had told the groomer what clip she wanted and the lady said she could do it, but obviously not, or she didn't understand what my friend was asking for. That just goes to show that as annoying as some groomers find it TAKE A PICTURE of what you want whenever you go to a new groomer. She completely ruined what I had done, but whats worse she didn't even do a decent job on the haircut she did do. When I blew her coat dry some parts were more than an INCH longer than other parts, everything was super choppy and all over, but especialy on the legs.... just awful. Now I'm by NO means cheap price wise but I happen to know what the other groomer charges just for a shave down on a spoo because she doesn't like doing them, I shudder to think what she charged my poor friend for this **** poor gaurd comb and scissor job. I wanted to cry with frustration because this lady was expecting her dog to look perfect again.
Here was what she looked like one three months ago, one of her last grooms with me.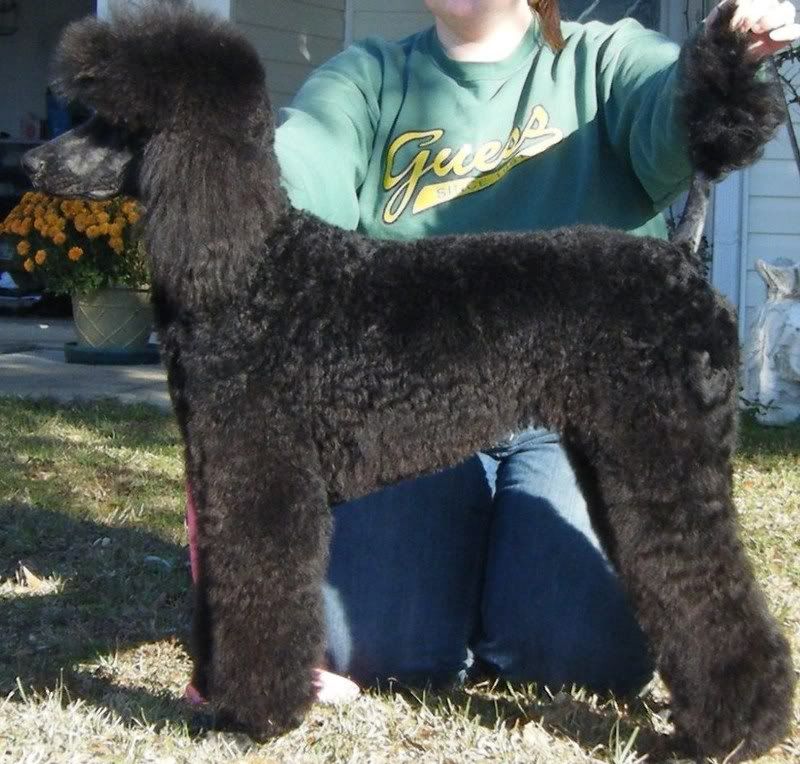 This is what she looked like this morning, he legs were just awful. The front legs were a lot shorter than the back legs and I couldn't figure out why. It looked like the bonehead groomer clipped the front legs down with a gaurd comb all over - goober - and didn't do it the same way in the back??
Anywho, we were talking about maybe starting a miami on her and her momma figured whatever I did was bound to be smoother and better than the last two grooms from the other lady so she gave me free rein to do whatever.
This is what I cam up with. Sort of modern meets a miami.... just need to round out the bracelets and we'll be all set.... OR I could let them grow and turn the crest I gave her into a mane and viola PONYDOODLE!!!
Momma was thrilled, dog was thrilled, I was exhausted because it was a long day but also thrilled. If nothing I think my friend understands a little bit more what a deal she is getting on the groom and just how difficult hand scissoring is.... Sooooooo She is a little more grateful, which is nice. Hopefuly she won't forget.