Is a ramp an option? If you've got a place to store it, you might find it's useful again at some point. Even for the humans.
Peggy hopped onto the couch herself the day after her spay. I
completely
freaked out. I even posted about it here as I wondered how to get her down.
I ended up sticking her bed in front of the couch, with a bunch of blankets on it, and she stepped down, no problem.
She also regularly did a single step in our backyard, to get up to her preferred grass patch. She did this from the day of her surgery.
We purchased this surgical suit:
Buy Suitical Recovery Suit for Dogs, Black, Medium at Chewy.com. FREE shipping and the BEST customer service!
www.chewy.com
And this inflatable collar: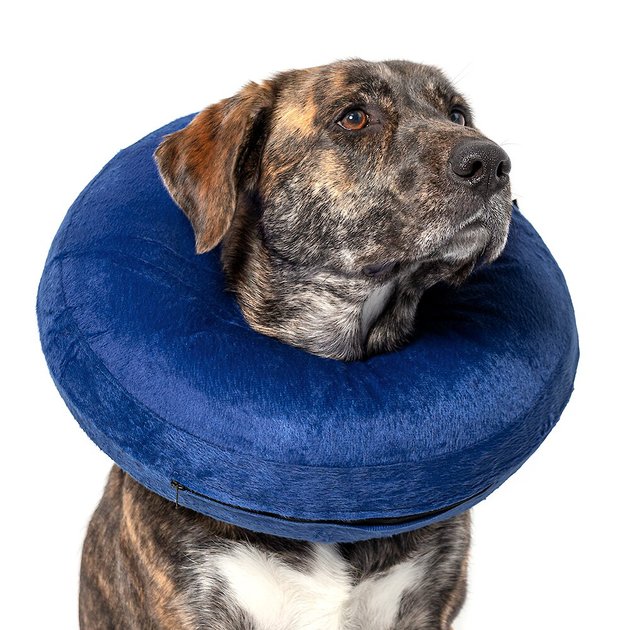 Buy Calm Paws Basic Inflatable Dog Collar, Large at Chewy.com. FREE shipping and the BEST customer service!
www.chewy.com
But had no use for either.
We let Peggy gently explore the area around her incision, but if she got too close, we gave her a little ah-ah. That was all she needed. It helped that the incision was the best I've ever seen. It healed super fast and clean.
The first night I slept in the living room, on a cot, with camping pads and blankets spread all over the floor for her. She vomited the whole night and it was traumatic for both of us. She was very out of it. We absolutely could not have managed 5-6 stairs together.
For a few nights after that, she slept in the human bed with a leash looped around my husband's wrist. My husband had no trouble lifting her on and off the bed.
Then (much to her relief) it was back to the crate. No suit, cone, or collar.