Discussion Starter
·
#1
·
It isn't always good to have a groomer for a mommy... Jazz can attest to that. See, the thing is, sometimes said groomer gets ahead of herself at work and gets bored waiting on her next appointment. Jazz says, this is NEVER a good thing. A bored mommy/groomer may decide you would look better a different color, or maybe that she should try something she's never done before, or that you need a bath and a nail trim (jazz's least favorite option). OR said bored groomer may take a perfectly good english saddle trim that just needs to be scissored to neaten and shorten it up a bit and turn it into
this....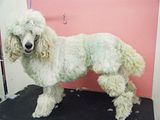 Yeah ok so that looks pretty bad.... perfect example of why you don't try and take an extra long gaurd comb through a coat like this. Especialy before a bath and blow out. This was a "C" Comb.
I was going for a more pet length version of the trim I already had. Since getting Saleen the playtime in the backyard and at the park is considerably more rough and tumble. Which translates into A LOT of dirt and grime and leaves, and sticks and grass getting trapped in that Four 1/2 inches of coat Jazz has. It's made of velcro I tell ya! Couple that with the fact that it is begining to get very warm here in fla and I wanted a shorter coat. I didn't have that up above in mind though, LoL, I will admit that I stood back and looked at my handy work and promptly burst into tears. Of course the client that I was waiting for picked that exact moment to walk through the door. How nice
It's a wonder she left her Westie with me, (she looked fabulous when she was done though - promise!).
So I finished her dog and got back to Jazz to see what kind of damage control I could do. I tossed her in the bath first, if she was going to look bad she was darn sure going to be clean and smell good and be blown out straight!
I set to work with scissors and by mid groom I had this:
I still wasn't 100% sure where I was headed, I just let my scissors go and go and goooo. When it was all said and done we had this:
90% of her coat is still over an inch long. Just her rump area is shorter. I used a 2 gaurd on that before the bath when I was trying to keep the english saddle. After the bath I just sort of blended tha line in. In person it gives this nice little waistline effect like the T trim. Love it. She looks sooo thin now LoL
I've been planning to shave her ears off for summer to get rid of the red stripes so i figured now was as good a time as any and why not take the oppertunity to give tassled ears a shot.
The only thing I didn't touch at all was her braceletts on her front legs and the bottom ones in the rear. I haven't decided if I want them gone or if I want to morph into a miami or ponydoodle so I left them alone. I also didn't have the guts to cut her topknot down. I love the tied up look and now it is long enough to have two bands in it.... maybe I'll have the courage tomarrow to cut it... maybe I won't. I did trim the top once I had it tied up.
Hubby, surprise surprise, LOVES it.... I was shocked. I sort of skulked into the house tonight when I came home with her. I was trying to put off the "Oh my GAWD, WHAT did you do?!?!?!!!!!!!" for as long as possible. When he saw her his attitutue was OMG!!! I LOVE THAT!
LoL
Super Groomer Strikes Again!!