Discussion Starter
•
#1
•
Someone made a thread on another forum about scars, and the war-stories behind them. I'm slightly strange and really enjoyed reading it so I thought I'll start one here and see what impressive scars everyone has, and the stories behind them!!!???
I'll start;
I have a big scar across my knee. The easiest way to tell you about it is to quote my original post (on another forum) that I made the same day it happened... Nov 2007; title "Owwwwiiieeeeee!!!!!"
lemme say first up; beware of escalators!!!

Me and fiance [lol, hubby now!] were in the mall (mmmm, sushi!!) and heading home. I was in a hurry, wanting to get back as I'm house/dog sitting and wanted to get back to let the setters out. Go to walk up the escalator, but catch my foot on the rising step as I go, and trip. Meh, who cares aey? I was going UP so it's not like there was far to fall (ouch if I'd tripped going down!) but bugg*r if I didn't land on my knee. Right on the edge of the next step up. Has anyone *looked* at those step edges?? They are lethal!!

Anyway, I knew very well I'd cut myself, as I could feel a bit of blood and saw my jeans had a rip, but to be honest it didn't hurt more than just a bit of a graze or cut and figured there'd be no point stopping to look at it here, I'll keep going (up two more escalators) and go home (I was driving). Got home, dropped my pants... hmmmm, hun, maybe we should go to the hopsital. Turns out it was a big ol gash, looked to be around an inch deep on my kneecap. Because of the nature of a bending joint, and the skin no longer being held together, it had bulged out a bit too.

EWWWW! I tell ya, I might have lots lots of weight recently, but seeing that fat exposed right there infront of me reminds me there's still plenty to loose!

I figure though, that I'm still walking and not really in that much pain, so it's no emergancy and I'll go to the urgent doctors rather than the emergancy center at the hospital. So we wait for an hour or so there, only to have it looked at and told it's a bit too much and too deep (possibly to the knee cap, though they didn't want to pry toooo deep!) for them to want to do it, and so they wheel me around the road to the hospital and the emergancy center. *sigh* heh, it was fun being wheeled along the road though! Never been in a wheel chair before really.... (Hey, I gotta find SOMETHING to have fun with, or I'd be balling my eyes out!)

So another hour or two waiting around, turns out it wasn't quite to the knee cap, though was darn close, and I eventually get back to the let out the setters here with 12 stitches (never had stitches before either!) and a new found wariness of escalators.
Followed up a few hours later with this:
Ya all know I'm a photo nut, and my photo nuttiness does go as far as getting my camera out in the car on the way to the hospital to take a photo of the wound!! I'll only link it, do NOT go there if you are at ALL squeemish, it's not nice!!!

WARNING do NOT click here if you are squeemish!!!!!

I imagine quite a number of ya won't look at all, which is fine! Don't! I'm getting the heebie-jeebies looking at it too, though admittedly I think it's worse knowing it's MY knee there! It is without any cleaning at all, just a change of pants at home and jumping in the car to go to hospital.

It aches pretty much all the time, and tends to make me squeal when I get up having sat down for a while, but once up and moving about is back to the dull ache again and is quite tolerable. Even when I forget painkillers all day! lol.

I'll get another pic once I get this bandaging off, for a pic of the luverly stitches. I promise it won't be as gory!!
and the stitches pic was posted the next day:
http://i80.photobucket.com/albums/j162/flyingduster2/P1013355.jpg
The scar, as of this afternoon: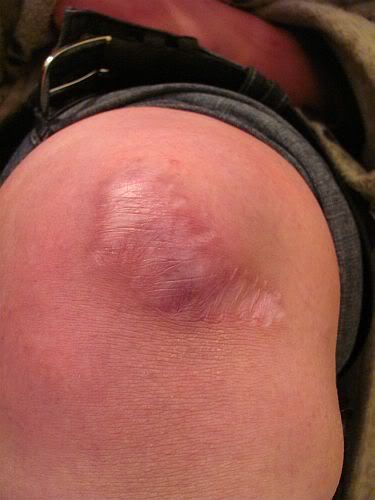 looking straight at my knee
looking down on my knee: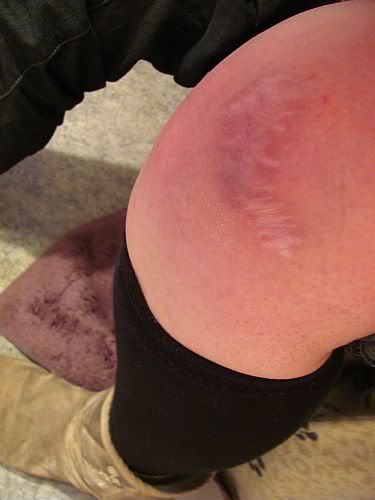 it is surprisingly difficult to get a decent photo of it! It's all massivly puckered and gross if I straighten my leg out, but if I bend my knee it goes so far around & under my knee that I can't get a decent pic of it... lol!
The scarred skin has no sensation itself, but the flesh under it does... You know that weird sensation if your fingers are really cold and you can't actually *feel* your thumb running along them, but you can feel the *pressure* sorta?? It's like that. But the nerves run right through to my kneecap and I can feel the sensation right through my knee, but not at the surface and I get major heebie-jeebies if I run my finger along the scar cos I can feel it, but not feel it...... *shudder*
I also have countless lil scars on my hands and forearms from animals (mainly dogs and the odd cat or rat) but they're boring and tiny and no real 'war stories' behind them, just bratty lil puppies! LOL!
soooooooooo, who else has scars to share!? Or am I the only weirdo here?? LOL