Discussion Starter
·
#1
·
Welllllllll I've had a stressful week, jobs, family, friends, and pets have all suffered losses in the last week.
I decided that both the poodles smelled BAD and it isn't their fault since I have been falling behind on grooming lately. Jazz hasn't had a bath is almost a month.... omg, I think thats a reccord for us. I got the bright idea that it would be a good idea to shave jazz so it would be easier to bathe her in my bathtub, (i'm waiting on delievery of my new grooming tibe), and hey it's October and i'm doing a short clip so what better time to try a ponydoodle than right before halloween? Sometimes I get ideas that are just not as fantastic as I think they are. I think I need to make a rule to look at the clock the next time one of these bright ideas strikes. New rule; if brilliant grooming idea occures after 10:30 pm, let it go. LoL.
As you can see I grabbed Jazz and hubby since I can't lift her on the table anymore and got right to work, at almost 11:00 pm lol.
Here she is all grown out from out last creative groom and ready for a new look.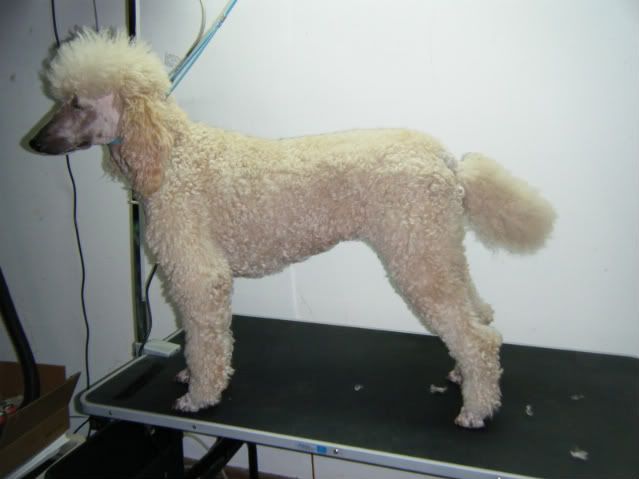 I did a little test strip with a 7 blade on her chest and hubby approved so on I went.
Poor Jazz.
I'd have to say the photo doesn't do this clip justice, it's really much worse in person. She looks so skinny and rangy and well so unlike Jazz. I couldn't bring myself to shave her ears again for the complete pony look. It's taking forever to get them to grow after last time I shaved them. They were starting to look awful and stringy so I am glad that I trimmed them up.
And one headshot just for good measure. At least she still has a happy looking face.