Discussion Starter
•
#1
•
I've had a few people asking about Paris' story lately, and I know I haven't posted her full story before.
Be prepared for a bit of a book here!!! lol! Many of this will be quotes from the forum I was on when the whole story unfolded too...
I've been grooming since Aug 2006. Within a year of starting the job I had decided I WILL get a spoo one day. I figured it'd be a long way off though, as my current dog, Riki, had some dog aggression issues with strange dogs. Dreams are free though hu!
Where I work, there's a vet clinic right next door, I get along with all the people there really well, including the head nurse, Sue. Sue, at this time, had an old ridgeback and a boxer, and took them to work with her every day.
12th April 2007:
Yesterday an old lady in her 80s with a terminal illness demanded that either Sue took on her 1 year old spoo girl, "Paris", or they [the vet clinic] euthenise her.
It was over time that I found out the whole story, but the elderly lady, Clair, had previously had minis, and for unknown reasons I think a friend from Australia bought Paris for her?? I believe the friend was to take Paris in the event Clair couldn't keep her, which was the reason the breeder allowed her to go; because she was assured of a home in any case.
Clair was diagnosed with a terminal illness and sold everything, to live in a [parked] caravan with Paris. Paris was a growing puppy, she chewed things, she ran and bounced and played. She was far too much dog for Clair! She had to be kept tied up due to the lack of a fence, when she was let off she would pull away from Clair easily, and would frequently be chasing the race horses on the nearby beach. Apparently Clair tried taking her to an old fenced graveyard so Paris could run without getting away, but it took Clair 3 hours to catch her again. It was soon after then Clair was moving to a nursing home, and the Australian friend decided (??) she didn't want/couldn't have Paris. Clair, I guess, worried about a good home, and perhaps didn't trust many people in her life, so decided the best course of action, in her mind, was to have Paris euthanised, at her vet clinic which happened to be next door to my work.
It was when one of the junior nurses was balling her eyes out about this darling young poodle, that Sue agreed to go talk to Clair (again) about surrendering Paris. Sue never wanted a poodle, but figured rehoming would be easy enough. Clair agreed to Sue adopting Paris, I guess she trusted her, but she made the ultimatum; "If you can't keep her, I want to be there when you put her to sleep". In other words, either you keep her forever Sue, or you kill her. !!!! Obviously, Sue kept her.
Paris is tugging my heart strings, she's an utter sweety, she's not confident but given her turmoil lately I can understand that, she's not scared or nervous, just unsure and not confident. She is well behaved and extremely good natured, but has no obedience at all and doesn't know how to come or stay or anything. But she does try!
I first heard about her when Sue came in to work ask if I'd groom a poodle for her. She never knew about how much I wanted a white spoo before then either!
This was what I first saw when I bought her through to groom her:
I nearly cried shaving her gorgeous poms and topknot off, but she had huge matts too, and would benefit from starting over even if Sue wanted to keep the poodle look. She's so pretty!! I'll be popping next door to bring her over for a weekly brush out, and Sue will at this stage happily give her to me, but she may yet fall in love too. lol.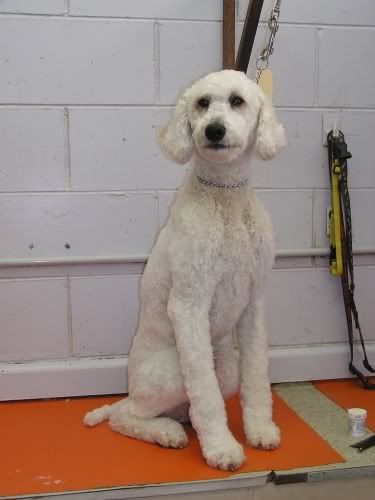 Basically then over time I'd brush her every week and give her a bath every couple of weeks, and for a long time we kept her shaved down like that. On the days I gave Paris a brush I'd often bring Riki to work, so I could get the girls out the back where Riki had no claim on territory and let them hang around. Riki is an idiot when meeting other dogs, but as long as they're not pushy to be in her space she'll ignore them, and Paris never pushed Riki and would simply back off if Riki got snarky at anything.
End of June 2007 and one day after giving Paris her bath, I took her for our first ever walk around the block.
I am finding it so hard to not fall for her. She *needs* some training and more work put in to her, but she just proved to me she will learn and accept new rules perfectly fine. *sigh* I may see if I can take her on walks more often now And I shall keep dreaming.
September 2007
I was at the clinic one day chatting and because I'd clipped Paris back again only yesterday (she had mud gumboots!) I was retaliating at the vets comments of 'woolly jumper' with 'not so woolly jumper' and had to add, yet again, that I'm dieing to shave off her face properly. So Sue said ok, do it. "It'll grow back if I don't like it. Do it." We were heading back inside within seconds, I wasn't giving her a chance to say no!! I have been sooooooooooooooooooooo wanting to shave that face back since I set eyes on her!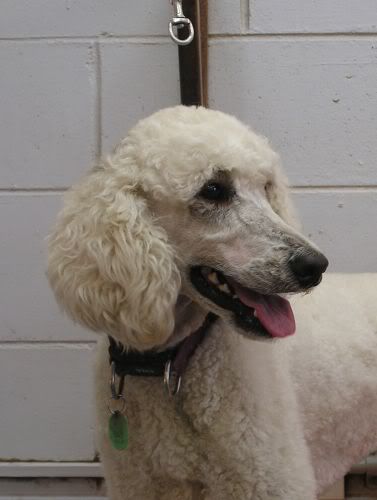 A month later we managed to shave her feet off too and I continued to walk her in the afternoons and found any excuse to bring her over with me. I also slowly started growing her legs and topknot out a bit and turning her into a proper poodle!
December 2007
Oh man I have fallen for this pup. I am trying so hard to not be hopeful of getting her, cos I don't want to get hurt if it doesn't work out! As it is at the moment I'm very happy to just have daily access to her!
Mid Jan 2008, Sue says something about how I should do agility with Paris, after me saying I want to do it, so I find a club, and joined and went to some classes with her (basic obedience for a start) I'd do it in an evening during the week, so Paris would come home with me for a couple of hours after work, we'd go to class, and I'd drop Paris back at Sues on my way home.
Paris proved to be smarter than her blonde bimbo attitude had shown!
Feb 2008
it made me laugh when I got told that this morning when Paris (along with the boxer & ridgeback) were let out of Sues car to go out the back of the vets (like they have done 5 days a week ever since forever), Paris instead ran around the front and sat at my closed front door. "I wantz to go to the gwoomers' tho!" which made people watching laugh. hehe.
From then onwards, Paris started helping herself to my shop in the mornings rather than go into the kennel at the vets. I usually got to work before Sue did, so I'd just leave the front door open and sure enough Paris would be bounding in by herself as soon as Sue got there too!
March 2008
Oh but gosh I am falling for this girl like I've never fallen for a dog before. Sure I love Riki, she's an awesome dog and always will hold the special spot in my heart, but sheesh I've fallen *hard* for Paris! I never knew a dog could do this! lol. I am hooked on her, and want more.

The prospect of the 4 day weekend of easter this weekend is hard, I am avoiding thinking about it so as not to have tears pricking my eyes; it means 4 days of not seeing Paris!!! I had a day off last week, and I still went across town to work so a I could take Paris out for a walk.
September 2008;
I went next door to the vet clinic and told them our offer had been accepted on our first house and Sue was like "Now, you are definitely taking Paris aren't you?" I was like "try and blimmin STOP me!!!" hehe.
omg I'm crying now. She WILL be mine! At long last, no more 'if' or 'probably' or 'one day', but WILL!!! SOON!!!
In September I found Paris' breeder and pedigree [looked for a spoo with the same birthdate on NZKC and found one, rang the breeder, and bingo!] and it turns out the breeder is really nice, and we still keep in touch a lot. Paris' litter sister [the one I found on NZKC] is a very nice winning champion show bitch.
The fence at our new house was finished the day before my birthday, so I went over that night and collected Paris
So I woke up on my birthday to a spoo in the house and we've never looked back.
heh, dunno if it was worth reading the whole book for, but that's our story anyway!!!