Our first title!!! (+ Rally photos)
Well this weekend was a big triple Rally show, held a few hours away from us but me and Jak decided to travel down together and go for it; it was the first EVER advanced class being held in NZ (Jak and two others are the first to have ever gotten their Novice Rally titles, so were the only ones eligible!) so was a big weekend all around.
Paris already has one of the three qualifying certificates needed to get her RN title. The Qualifying scores have to be at least 90 (out of 100) and our first one was 92. This weekend we got 2nd place on a score of 97, third place on another score of 97, and fifth place on a score of 96. Which means we got all our required scores (and an extra) to now have our proper Rally Novice title! WOOOT! I know it's not really a big deal, but Paris is the first dog I've trained to compete, and the first title I've ever gotten on a dog!! I'm just so chuffed! hehe.
We got loads of photos (around 270 after I weeded out the blurry/bad ones...) and I narrowed it down to about 40. They are all on my photobucket album
linky
if you want to see them all, but I'll post a selection of them here too...
Paris heeling:
a bit of 'Paris flair' on coming behind me back to heel position:
Jak & Saffy doing the first ever jump in a rally class in NZ: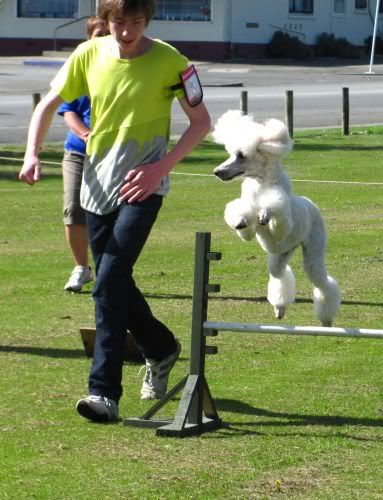 Jak winning the advanced class (!!!)