Speaking of dog parks, this is my favorite kind. (It's not really a dog park) The poodle boys are best buddies and they really only need each other to play with and explore together. Nobody else around. We had the whole beach to ourselves the whole time, save for one person we passed going the opposite direction and one person in the parking lot.
We took a long walk on the beach, a little further than you can see in the photos...wayyyyyyy down around the corner. It was a tad on the cool side, but not bad...could get by with a sweatshirt, windy and bright but cloudy...sort of. I saw a total of two people at the beach...we were there for about 1-1/2 hours walking way down by the wild life refuge area. The eagles aren't as active now that their babies have grown up, didn't see a single one, but I still watch the skies just in case...mostly there are seagulls. The wind made the water rough and little bit bigger waves than usual. It was very peaceful and refreshing...love the smell of salt air. I had all the time in the world so didn't feel one bit rushed. I call it "my beach"...it's usually pretty vacant except in summer when there are a few people.
Matisse and Maurice are very good about coming and not running too far from me. So they "check in" quite well by default. They started out with their leashes dragging, then I took them off so they could rip roar once I saw no one else was around. When racing around on that trail in the grassy land which is right next to the beach so we can go back and forth from the grassy place to the beach, they get so silly and run, stop and wrestle a little bit, run some more. Boy, did they ever have fun and tired out.
Surf's up!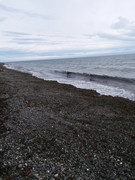 We got crab!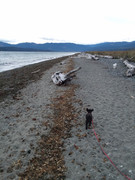 Beautiful grass land adjacent to the beach and the wild life refuge area. Far to the left of that trail is more water...sort of like a small bay or wet land. It's salt water that comes in from the sound and there are some cool water birds, like blue heron that I love and of course, loads of noisy seagulls.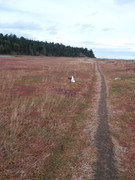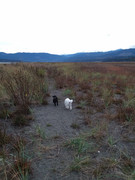 Anyhow, that was our playground today.
:happy: