The writing is good and the stories are compelling in this article. It tells the tales of how blind luck spared the lives of those who would have been in the Twin Towers but weren't.
As an aside, a few weeks earlier I had scotch taped an ad to the wall in my office as a reminder to take the kids back to NYC for another Broadway play and fun. Later I would stare at that ad, and it was months before I took it down.
On that morning I had my then 12 y/o son with me at work (in Maryland, a couple miles north of DC) for a noon dentist appointment. My mother called and said "Quick! Find a TV, a plane just crashed into the World Trade Center!"
I went to the lobby and we watched as the second plane crashed. Some random guy was standing near me, also watching. I asked something like, "What are the odds that two planes would do this in the same day?" He said it was probably terrorism. I repeated the word, and it felt foreign in my mouth. I couldn't have imaged it. It's like my innocence was lost.
My boss didn't want to let everyone go right away until she had word from the higher ups of my agency. An hour later the Pentagon was attacked. By 11 or so she let us leave. I picked up my then 5-1/2 year old daughter and cried in fear as I drove all the way home, which was around 15 miles from DC. I stayed glued to the TV the next few days. The thing about the fear is I worried if more attacks would come.
9/11 and the other events affected my son deeply, and a year later he became pretty depressed. His innocence had been lost too. We had been in NYC in 2000, and have a photo of him ice skating in Central Park with the WTC in the background. He was so happy. I hadn't really paid attention much to these background buildings until then.
A few days later, my daughter drew the picture below. I asked her to describe what was going on. She said the pilot was was sad because he knew it would crash. Both of my children had traveled on plane rides before, but at only 5, she had an real understanding of what one looks like up close and to be inside. She otherwise showed no stress.
​
A week later my family hung out at the National Mall, which is between the Capitol and Monument, on one Sunday. As Washingtonians, we were so happy the Capitol hadn't been attacked. Then darn it, the next day the news reported the Capitol was being closed due to anthrax being mailed there, and that week a postman died. In October 2001, the DC Sniper was killing people randomly. We drove right past all the police car racing to the scenes on that first morning. By fate, we would have been at the Starbucks at the exact time when a lady was shot and killed, but was delayed. Just going to the gas station until they were caught took an act of courage.
My daughter, now 23, is among the youngest millennials who grew up in the age of distant, endless wars and with a distant memory of what happened on 9/11, and the unraveling of society. She and her friends have normalized this and seem to take it stride, and it doesn't stop them from traveling. In the past 2 or 3 years, one of her best friends and her mom missed a bombing in France by an hour. Her friend was initially upset, but later shrugged, saying she and her mom were just lucky.
Where as my generation obsesses about disasters, they get on with their lives. It is for them, the norm. It's gotten to be no different with mass shootings. When one happens and no one they know was touched, it's a matter of
that was horrible, these guys are crazy, and I'm glad I wasn't there that day.
Meanwhile I worry often about both my kids, but try not let them know. Life, after all, is for the living.
She likes to draw and paint as a hobby, including looking at cartoons and drawing them free hand. This summer she made this one below.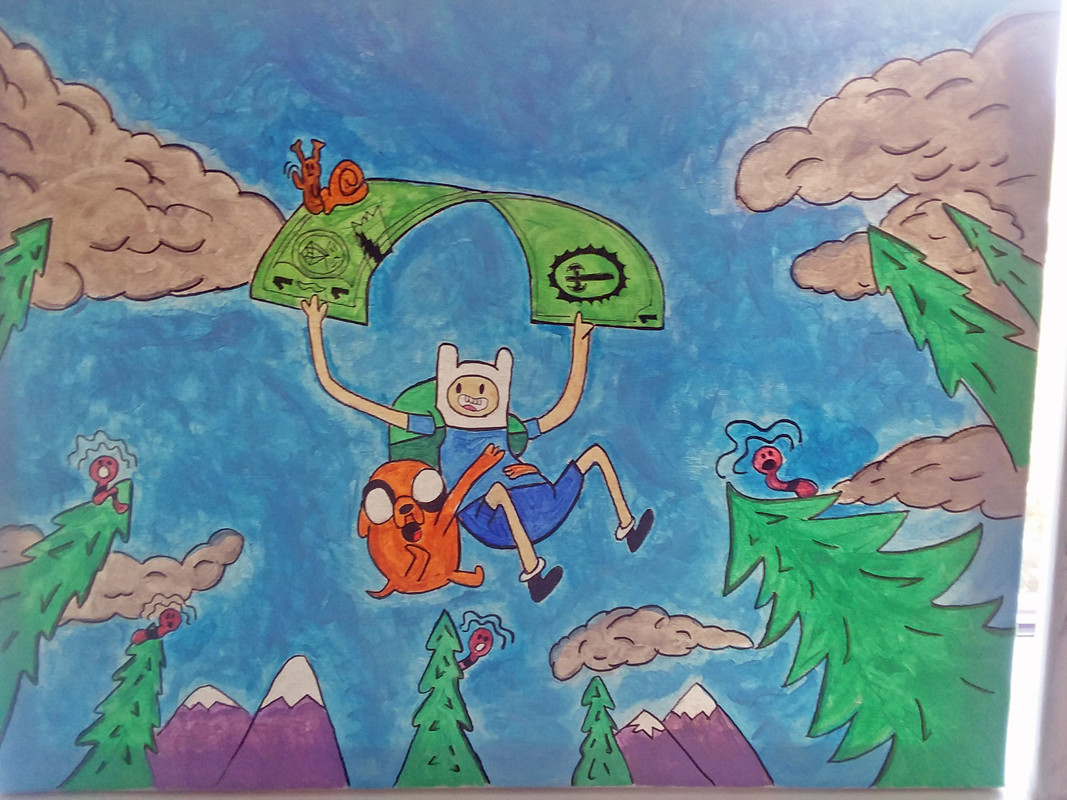 ​
Until today when I thought of 9/11, I thought it was really cute. But as I contrasted her old picture to the new one tonight, it made me wonder if on some unconscious level, it affected her more than I thought. In her unconscious mind, perhaps, she is optimistic that somehow she will always be safe. I hope so.
What are your thoughts about that day, and/or the luck factor?