Discussion Starter
·
#1
·
I've been meaning to cut Jazz's hair for a couple of weeks now but it was to busy at the salon for me to fit her in for more than a bath. I clipped her face and feet on wednesday but didn't have time for anything else. Today I had time She got a really good bath, (trying to fade the candy stripes as quickly as possible) and then I set to work. I opted to go ahead and set the patter for the puppy lion on the thought that if I didn't like it I could always take it down to a lamb clip.
I did her rear end with a 0 gaurd, so it's about 1 inch long, and blended and scissored her legs, did the cuffs on all four feet to neaten them up, and then lightly tipped her coat that will be grown out into a mane. I also blended her topknot down into her body as best I could. I beinging to understand that maybe her previous owner shaved her every four months because she doen't like to be brushes. She was a real butt about not wanting to hold still or stand to let me scissor her.
Anywho, here are some pictures before and after.
Before
Pattern cut in with gaurd comb before scissoring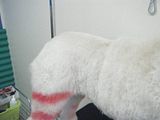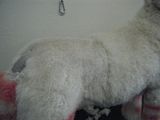 After scissoring with tied up top knot
Still some work to do on it, she just didn't want to be groomed today so we'll try and touch up some of the scissoring later. Obviously a lot of growing out needs to happen too. I can't say I like the cut... but I don't really dislike it. Maybe it will grow on me. She may end up in a lamb clip after all. We will see. The one thing I AM really happy about is being able to scissor and blend her topknot down into her neck better. I love that smooth one line look that I have almost accomplished. Just a little more growing ...