Discussion Starter
·
#1
·
My husband looked at me on the drive home from the petstore last night and says "OH MY GOD!!! Honey do you realize that we have 14 animals and another on the way?!?!?!!!!!!!!!!!!!!!!!!!!!!!!!!
LoL, Well we started out looking for ONE little brother for our new adult pigster Mojo that we adopted over the weekend. It didn't go that way though It took a couple of days but we did finaly locate pigs that were are certain are male. I was also kind of hoping to find another little rockstar piggy to go along with Mo and everyone here who DID have cavies at all only had americans which were not ***ed... mostly because you couldn't even touch them. One place was the exception, they sell only males, and my hubby had noticed one he thought I might like on Monday when he stopped in to get an igloo for Mojo. Soooo off we went yesterday to check it out. Here I will mention that I have been hoping for a piggy for quite a while(way before getting Mo) but every time I see one I like it gets a home before I can scoop it up. The most notable example of this was on Sunday when there was one and only one left and he was soooo cute I just wanted him (if we could confirm it was a him). Hubby said "Ok Mojo will need a friend, but lets grab a filter for the fish tank real quick". Guess what was missing from the cage when we wandered back over less than five minutes later? Soooo understand my disapointment/frustration/lack of surprise upon discovering that the little Abby guinea pig that Hubby saw on Monday appeared to be gone on Tuesday. Bummer. So the young guy working at the store asks which one we are looking for and then starts flipping up igloos to check and see if he had been sold. In the very last cage we found the pig we had come for.... Only problem was at the exact moment hubby spotted him I spotted a different one that just captured my attention. *giggles* We're standing there snuggling the pigs which were very sweet debating which one to take home for Mojo when the guys suggests, as any good saleman would, " why not both of them??" Awwww, what a good idea..... LoL
Poor Hubby....He never saw it comming, I wuvs him!
Sooooo I am pleased to say that both of these little guys are in quarentine waiting to hopefuly become friends with Mojo
They are really really sweet, especialy the darker one. The silver one is a little skitzy but he'll come around.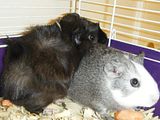 I can't wait until they are allowed to come in and meet Mojo, I hope he will like them as much as I do. The waiting is going to kill me LoL