Discussion Starter
·
#1
·
Hello Everyone
I stumbled upon this forum while looking up information on poodles. Standard poodles to be exact! I have been planning on getting my first purebred dog for a while now and have decided I would like a standard poodle. So now it's time to find out as much as I possibly can about the breed!
Well I guess I shouldn't say it's my -first- purebred dog. My other dogs are of questionable heritage as they are both rescues from the local shelter...but it will be the first purebred dog I've ever purchased from a breeder as well as the first time I've raised such a young puppy.
I have two other dogs. My first is Riley, a nearly 4 year old male pit bull mix. He is my heartdog and fills my life with such joy. I adopted him when he was 5 months old and my obsession with pit bulls started. It is because of them that I finally figured out what to do with my life; I plan on becoming a vet and doing what I can to help these wonderful dogs out.
My second dog was a bit of an impulse rescue. Terrible I know but we just kind of decided on the spot to adopt him. Phineas is a 1.5 year old male bichon frise and my first small dog. He is a lot different from my pit bull, but not in a bad way. He has random bursts of energy and isn't nearly as clingy or affectionate as Riley, but we still love him. We only adopted him in January and are still getting to know the little guy.
But back to the poodles. Even though pit bulls are my breed and have been for quite a while, I have always wanted a standard poodle. I met my first one in real life a year and a half ago and she is absolutely the most gorgeous, graceful, and one of the most intelligent dogs I've ever met (of course we met in obedience school!). I cannot wait to have one of these intelligent creatures in my life.
I am on the hunt for the perfect breeder..but first I need to figure out what I want out of the breed..which is why I'm here. To learn as much as I can. I plan on getting my pup within the next two years or so. I plan on doing obedience, and hopefully agility with my new pup as well (I'm currently doing rally-o with Riley, he loves it!). Anyway, that's my story. Looking forward to learning what I can from you guys and meeting your gorgeous puppies.
Phineas.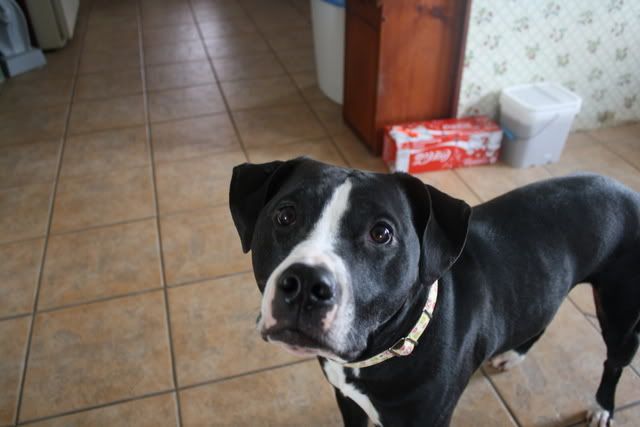 Riley
Together.