Discussion Starter
·
#1
·
I'm new to the Spoo world so I am learning day by day. This weekend I learned the hard way. I wish I had found this site before my disaster. I am an idiot.
(lesson #1 Google BEFORE you do something stupid, not after)
Zowie is 10 mos old and should have been getting her usual puppy cut but my Dad had a stroke 6 weeks ago and we missed her grooming appt so it's been a total of 4 months since she got her hair did. On top of that her usual brushings were put off to the side during that ordeal. She wasn't in the best of shape I'll admit. Because of all the rain and mud here she has been a mess. The poor thing was getting leg baths numerous times a day with almost no brush outs or drying. Again, she wasn't at her best... I mean my best.
(lesson #2 Poodle hair doesn't care if you're too busy)
I knew she would most likely need to have her lower legs shaved. I accepted that the hair below her ear leather would have to go- my fault for not knowing I needed one of these handy dandy spinning tooth combs to find at skin mats. BUT! Her top knot, back, sides, butt, chest, and tail were good. Sure sure some small mats on her hind but honestly- doable.
(lesson #3 Always brush out your curly horse BEFORE taking her in for a groom so you know EXACTLY where her trouble spots are)
SO, I make the appt to have Zowie groomed at this little place not more than 3 minutes from my house. I *thought* I needed to find a new place nearby because Zowie is not good in cars... no really, not good at all. 5 minutes after we take off she is drooling like mad, 2 minutes later she starts to barf, 2 minutes after that she is pooping, 30 seconds after that she is laying in all of it as I am hanging my head out the window gagging. Wait 10 minutes and repeat. Her normal groomer is 20 minutes from my house. (we stop her eating the night before, no water the morning of AND give her dramamine btw- no help) Anyhoo back to the groom doom- I call the place, ask about prices, tell her about Zowie and her trouble spots, ask her about dying, she tells me no prob and that she had just done one like Zowie the day before and how cute she was. She then says she can get Zowie in on Saturday! I was like WOOHOOOOOO! 1:30 here we come! Pick up time is 5pm- sweet.
(lesson #4 Stick with a groomer you know is good even if you have to rent a truck and put the dog in a mondo sized carrier in the back. IT'S WORTH IT! Either that or trick someone into taking her for you- ya ya that's the ticket.)(lesson #5 IF you truly need to find a new groomer interview them like you would an employee, better yet like you would interview your human or furbaby nanny. Make them PROVE they know what they're doing not just take their word for it. Ask for references because your dog is worth it)
Saturday comes and I drop her off just before 1:30. The groomer and the owner seem really nice and really good. I look over at the dog the owner is grooming and that lil ****z looks fabulous! Lines are near perfect and he was a happy camper- good sign right? The groomer even called me to tell me Zowie's back end didn't have to be shaved because it wasn't that bad but I had already set my sights on a continental type cut with a bikini twist. 3pm comes around, I call to check up on Zowie. Answering machine. I figure they must be working hard. No call back so I begin to worry about not getting a doggy receipt. Did they steal my dog? Lose her? NOPE! She's just getting a hack job.
(lesson #6 NEVER EVER NEVER have your dog groomed on the weekend, busiest times for groomers here. Your dog will spend most of it's day in a cage- hungry and not taken out to potty. Learned that from the breeder, my BFF who has poms, my Mom who bred Lhasas when I was a kid, and numerous websites over the weekend)
(lesson #7 get a friggin doggy receipt *just in case*. Why worry right? These dogs aren't cheap!)
Pick up time comes and me and mini me are chomping at the bit to go get her. We take off and arrive to Zowie laying on a table with her ears choppy shaved, her rear choppy shaved with horribly uneven butt puffs (one on her back in the right spot only oval and about 3 inches longer than the other) and one cute round one a little lower on the other side, her face choppy shaved, her rear tootsies the same, front legs choppy shaved unevenly by a few inches with bracelets about 9 inches long and uneven by about 2 inches. I knew then that Zowie's grooming had begun about an hour before but instead listened to the groomer telling me this was the second demat. (Do groomers demat, bathe, dry, demat again, then clean up and even out? No really- I need to know cuz I am pizzed)
Well she wasn't ready at 5. She said she would call when she was done. I called at 6, I called at 7 no answer. Both times I drove by the shop and sure enough their cars were still out front. MAN they must be working hard on puppies! 8pm comes around and I get my call! I am SO excited to get my baby girl!!!!! Mini me (13 yr old Daughter) dumps all of her texting friends and we rush off to pick up the Zowster! We were so excited to get her I didn't look past her knot and that wonderful smile. Zowie was SO happy to see us she piddled LOL! I payed the owner $70 and gave the groomer $5 as Zowie was giving out hugs to all. I DID notice her tail hadn't been touched and said I would be in on Tues to get it fixed (they are closed on Mons).
We get home and she BURSTS out of the car and pees right on the driveway then heads to the grass and poops. Bless her heart, she held it. As she is pooping I see that her butt puffs are off- a lot- and that she kinda looks like a camel cuz her top knot had been trimmed to a snow cone but her vest hadn't been touched cept near the waist which was crooked and blocked. Top knot-3 inches, the rest- 7 inches and stringy old growth~ not exaggerating. All the choppy was still there, the uneven legs and bracelets and all. I am NOT being mean, I am NOT being obsessive. It looked like a child snuck scissors and cut her hair to me. Here are the pics from 2 hours after we brought her home. (everyone was asleep so they're dark. I was so upset and lost. I KNEW it didn't look right but all I could do was take pics and search the internet and think I was being a benotch about the whole thing)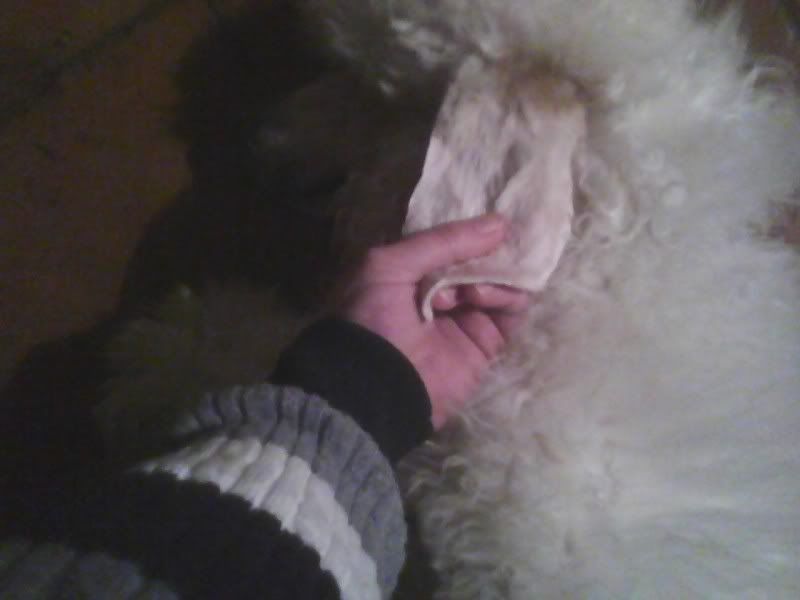 More to come-
I-am-devastated.