Brushing when wet/damp is fine! That's half the reason behind show dogs having a grooming spray when being brushed.
Generally I keep the feet shaved short as much as possible to minimise the mud trodden about. But Paris has several inches of hair on her legs (5 inches on the inside of her hocks!) which turns into inches of MUD over winter (thank goodness it's spring here now!!)
see: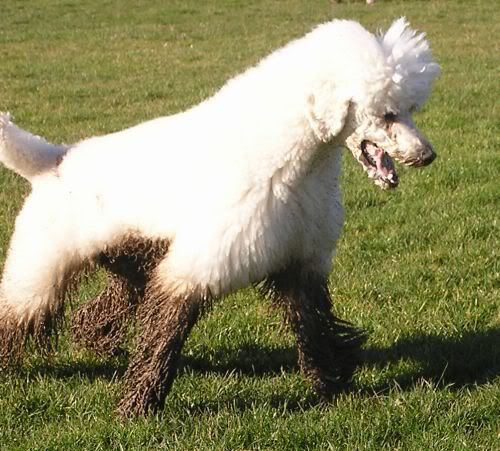 I'd get a bucket of warm water at the back door and dunk & swish each leg to get the mud off, rub with a towel, and come in and down-stay on a towel for 10 mins or so to stop the drips. I didn't usually bother brushing her out cos I keep her brushed out otherwise and I'd get to it when I did our normal brushing out anyway!
If she was muddy before work, I'd rinse her legs down and dry them off mostly at work (groomers).
If we've been out walking and it's all dried, I'd brush it off with a slicker.