Discussion Starter
·
#1
·
As soon as the stupid weather clears we can use the temporary stuff to stencile a small green christmas tree on her hip. She is going on the 20th to a nursing hom and visit some veterans, and anyone else who'd like a cuddle. A couple of the nuses have seen her already and are excited for her to visit. We'll also do her up with some nice bows and a bandana.
Dang I wish she had longer hair so I actualy groom her!! It's killing me waiting for her coat to grow back out. Shame on her previous owner for shaving her bald!! Arrggg!! Maybe if she had more hair I wouldn't be as tempted to color it. At least this stuff won't smudge when she plays with Monster at the dog park. Getting close to my 'over the top" limit though I think. The ears and tail were done on Monday, the legs were done the previous Tuesday. I was shocked that my oh so anti creative grooming husband actualy liked it. He said to me, " I was wondering when you were going to do that, it looked really stupid with just the striped legs!"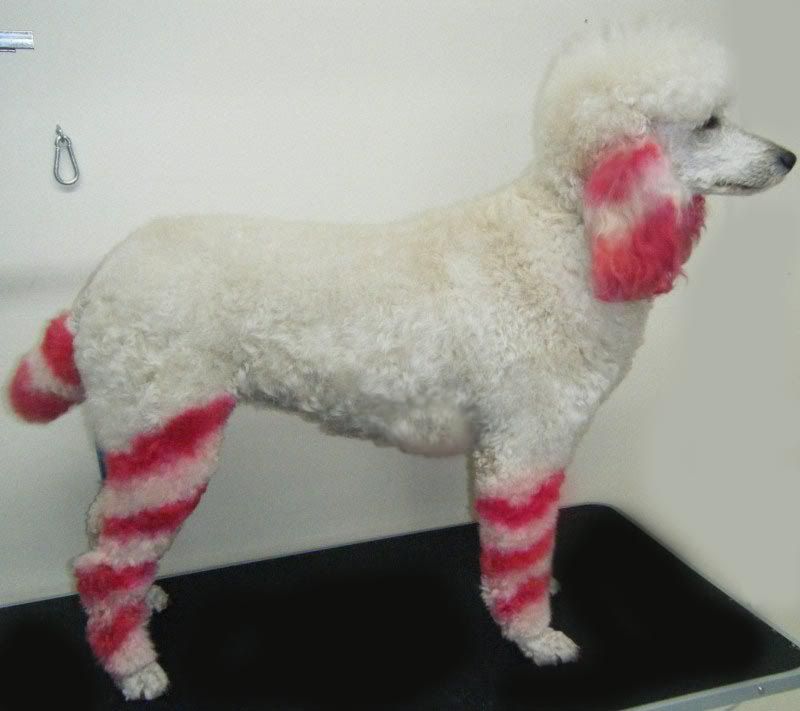 The candy cane transformation is almost complete!! Thanx MM for photoshoping the mistake out
Hopefuly I can get the smudge out for real by christmas.