Discussion Starter
·
#1
·
Jazz FINIALY got a bath today and I touched up the awful haircut I gave her. Since there is a big dog event comming up this weekend and I decided that it would be ok to go ahead and let Jazz get into her halloween costume. I haven't done anything creative in a long time so it was fun. Well it was fun until Hubby came home an hour early and caught me using blow pens to do her mane and tail. Blowpenning are strictly forbidden so he got mad at me and I'm sure he'll tell the doctor on me when we go in Monday. Oh well... I had a good time up until then lol.
At least now her weird haircut kind of makes sense, and it looks a little better.
Last picture of Jazz clean and white.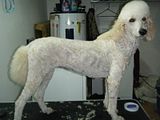 Putting on the purple, chalk this time around
Finished product