Discussion Starter
·
#1
·
Ok so the visit to the nursing home has turned into a visit to three seperate nursing homes
I took Jazz up to the shop today for a fluff and puff and some color. I sent my hubby to the craft store down the street where I normaly get my blow pens only to have him come back empty handed
It seems the store no longer sells the product so we improvised and used what we had blow pen wise and streched that to the limit with the help of some washable crayola markers. This of course ment stars were out of the question so the planned design underwent major changes. I was trying to keep the red to a minimum because it seems that no matter what I use red is perminate in her coat LoL.
Not to bad - what do you think? Feel free to make suggestions if you see anything. Her nails are being painted tonight, probably red, and tomarrow she'll sport a red bow in her topknot along with (Maybe) a patriotic bandana to go with the one Saleen is wearing. Her gentle leader and leash is also red so hopefuly there is enough to balance out the blue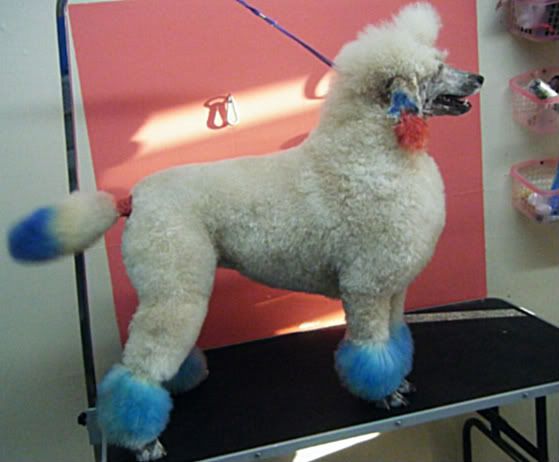 I couldn't help it (sorry Mel) I scissored her all over. Not sure what I would call this haircut LoL... It's a Jazz
And a slightly better pic of the dye job, excuse how I've set her up. She was kind of fighting me and hubby was unsure of when exactly to snap the picture lol.