Discussion Starter
·
#1
·
I visited Beana (Sabrina) a couple months ago in her new home. I got her at 8 weeks and I had her for a little over a year and a half training her as a service dog. She was the PERFECT dog, she naturally knew to heel on lead, learned ALL of her commands at 11 weeks old in about a week which included sit, down, stay, stand, heel, paw, leave it, take it, bring it, and light. She came a lllooonnnggg way. She use to be scared to death of other dogs, wetting herself and trying to attack them. I started slowly introducing her to new dogs and when she was comfortable enough we started going to the dog park and she loved it! I took her out more and she just naturally left the other dogs alone and didnt want ANYTHING to do with them, we would just walk on by with no problems. She wouldnt even look at them. She came from a bad backyard breeder who donated her and she was in bad shape and had diarea and you could feel her bones more than you should of been able to. I got her healthy and confident and began her training. The little boy who got her is 8 years old and has severe autism. His family had never had a dog before and his sister who was 10 was scared to death of dogs. She walked in the room with 2 goldens and Beana and she was sitting in her dads lap crying because she was so scared. When she was out on walks with her mom and they saw a dog they would have to go home because she was so afraid. She learned to trust Beana and now her fear is gone. When I went to visit Beana and her family I started crying seeing how happy everyone was. The little girl was laying ONTOP of Beana rubbing her belly and kissing her nose. They both came so far I'm so proud of them.
Pictures from visiting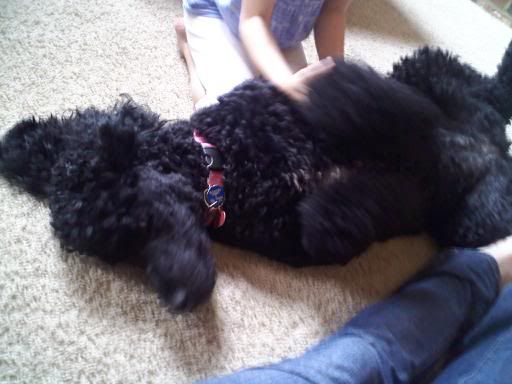 I think its funny, look how hairy her belly is. You cant even see the skin! hahah. We called her chewbacca when she lived her cause she had such thick hair and made REALLY weird noises when she played that sound EXACTLY like chewbacca.
At training class with her new family