Discussion Starter
•
#1
•
HI my Pf friends, this is Dewey. I wanted to show a pic of me, with some new papers that I got over the last few months. I am now a novice trick dog and novice Parkour dog. Here I am with my papers: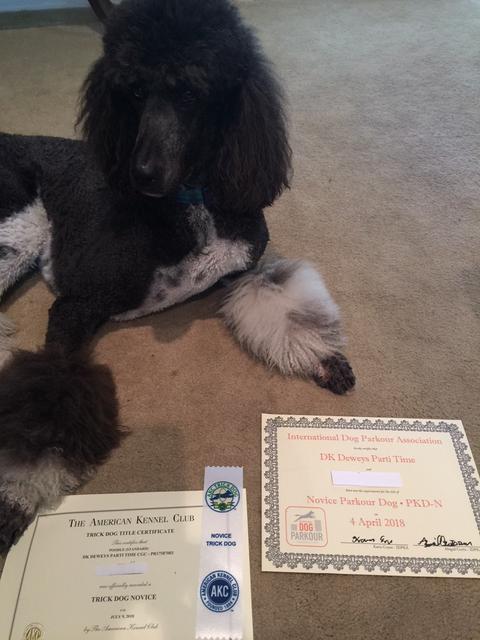 Now, my Mama said that it may be a little embarrassing to show this because there are many very accomplished poods here on PF, but I said that we have worked hard this past year and had a lot of fun so put me on there!
I will admit I am mainly home-schooled because around here we have gone to several classes called " Intro to ….", agility, rally, therapy dog, trick dog, then we go home and try to look at videos, books, apps, and practice. If you are a "problem" dog around here there are many trainers but if you want to be a good dog and learn fun things then there's not much.
A few years ago my Mama saw International Dog Parkour in Whole Dog Journal and we started working, then I got Training Level. The hardest part was that my Mama had to learn how to do all the videos and correct safety rules to send in to the evaluators. I loved it because we got to go to parks, hiking trails, outdoor malls, neighborhoods, etc to do fun obstacles. Last spring I got the Novice Parkour Dog Certificate. I had to learn new things like back up and go around obstacles away from my Mama off leash and many other fun things. My Mama said she was proud of me because she had never taught these things before and wasn't sure we could do it.
After Dog Parkour I knew enough to show out for AKC Trick Dog but we didn't have a person to show to. My Mama talked to a CGC dog lady at a banquet she went to and was invited to come to an evaluation. I already had my CGC but the lady said to come do the TRICKS. So one day we drove way out in the country ( even farther than we live ) and found the lady with an agility ring and dogs/people who had been taking a CGC course. We were nervous because all those people had been going for weeks and there were many distractions for me. It was in the evening and 95 F in the outside ring and we had to spray for mosquitoes. My Mama let me take my time getting used to everything but very quickly it was my time to perform in the ring. I went in front of everyone and watched my Mama the whole time and did my tricks two times each and passed! My Mama was proud because I did not bark or even look at all the other dogs and that was the biggest accomplishment for me. I am now working on Intermediate Tricks and am almost there.
Thanks to all the Pf dogs who are so accomplished and give us encouragement just by showing what you do! Thanks also to all the Pf Mamas/Daddys who post things that you are working through. We have learned so much from everyone here!!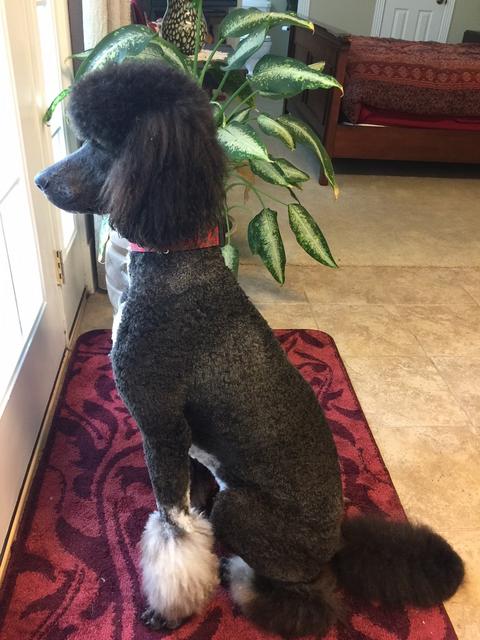 Love, Dewey and StormeeK