Discussion Starter
·
#1
·
Teddy picks on my cat Mickey relentlessly, and the cat has shown a lot more restraint than I would have if I were in his place.
Well, this morning, I think he finally had enough and he went after Teddy, tail bristled and back arched. He swatted at him and must have made contact (although I didn't hear Teddy's usual yelping when that happens). I think the sight of Mickey in full combat mode was enough to frighten him.
So ever since, he's been very clingy, wanting me to hold him and avoiding Mickey as much as possible. He only looks at Mickey with his head turned to the side. I recognize this behavior as both submissive and calming, and I am trying to resist the urge to coddle him because I don't want to reward clingy behavior. At the same time, I don't want to be cold about it.
I've always believed that my pets should work out their relationships on their own, with intervention from me only if it's getting out of hand, or if I see blood. To date, I've never seen blood, or any injury, for that matter, resulting from a squabble between any two of my animals. I seem to be the only one around here who ever bleeds from their bites and scratches (LOL).
I tried to get Teddy to eat his breakfast a little while ago, but he didn't want to leave my side. He was standing in the kitchen and Mickey walked up to him and tried to give him a head-butt. I don't think Teddy understands what that means, but it made me go "awww".
Teddy is now sleeping on the sofa, as close to where I am as he can get. I do want him to respect the cat and not play so roughly with him. I just hope he soon gets over his apparent hurt feelings and not be afraid of Mickey.
This is the way I like to see them: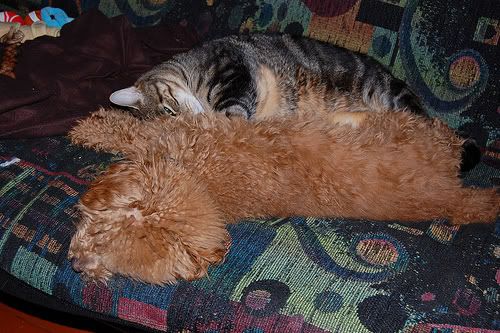 I feel truly blessed to have such sweet creatures in my life, even when they act like brats.