Discussion Starter
·
#1
·
Hey guys!
We'd been looking to add a 2nd dog for quite a while now, we currently have a chinese crested and needed one that would be friendly, not agressive and failry passive to meet Quincy's personality, or at least compliment it.
So wednesday we went to visit a minature poodle, to be honest she wasn't my first choice for a dog, all that hair is daunting and the grooming that goes along with it, even more so. Quincy my hairless gets groomed monthly but it isn't hard to do, I choose to have a groomer do it because I am afraid of hurting him etc etc...breeder said that most groomer loves to groom poodles because their hair is so verstaile and you can do so much with it, different styles etc etc...still I wasn't sure, I already had a "snobby dog" and a poodle in my mind was a snobby, richy sort of prissy dog to own. However....when she was let out of the ex-pen, she came rushing out and right into my daughter's lap...we spent a LONG time there with her, talking to the breeder and I was falling more in love each minute. The breeder showed us just how tolerant she is...I have never seen anything like it, you can do anything to her and she doesn't flinch, or get nervous etc etc...she is far from prissy or snobbish.
Needless to say Ruby came home immediatly with us....She has done super well and I am quite impressed. She LOVES the snow, she digs and plays and rolls in it, I have never had a dog who liked snow. She is doing great with housetraining, and only has had one mistake in the house, considering she spent her life in a kennel, in a pen where it didn't matter where she went, she has done excellent. She doesn't like her crate and the only way she will tolerate it is if she cannot see or hear us while she is in it, so she sleeps in the entryway to the house in her crate and does well all night, she IS able to hold it all night in her crate. She is friendly and by far the LEAST snobby, or priss like dog I have ever owned lol. She loves to play and is very eager.
She is black with a bit of grey on her face and a bit of white on one foot and mighty cute. She loves to snuggle and be snuggled with, she is very laid back and really has a great attitude (for now).
She gets along well with my crested and doesn't seem to notice the parrot that is out on a playstand through the day. I run daycare and have kids here m-f and she does well with them, if they go to touch her she lays down right away. She is also very empathetic, if one of the kids cry she is right there looking at them and trying to lick their tears away.
Its been a few days now and I have questions about her grooming.
1) I bathed her on Wednesday because she smelled bad, but really was rushed because she was so new and so scared, when is it ok to bathe her again?
2) her hair is really all over the plaace and am unsure as to how to clip her, I would be interested in seeing pics of puppies with various clips. It looks matted and unruly, but it isn't matted at all, just looks like it. Its kinda fly away and she is a big puffball right now (remember I am used to a hairless dog lol) groomer says she will give her a puppy cut for a bit but I am unsure as to what that looks like exactly.
3) she often gets poop stuck to ther fur around her bottom, do you guys keep that area bare ? if not how do you depoop yours?
4) any other information that would be helpful in regards to care, training, grooming, feeding etc etc etc....
Anyway here are a few pics of her just to give you an idea of what I am talking about, in terms of the hair, and to show you just how cute she is.
This was her first full day with us (so Thursday)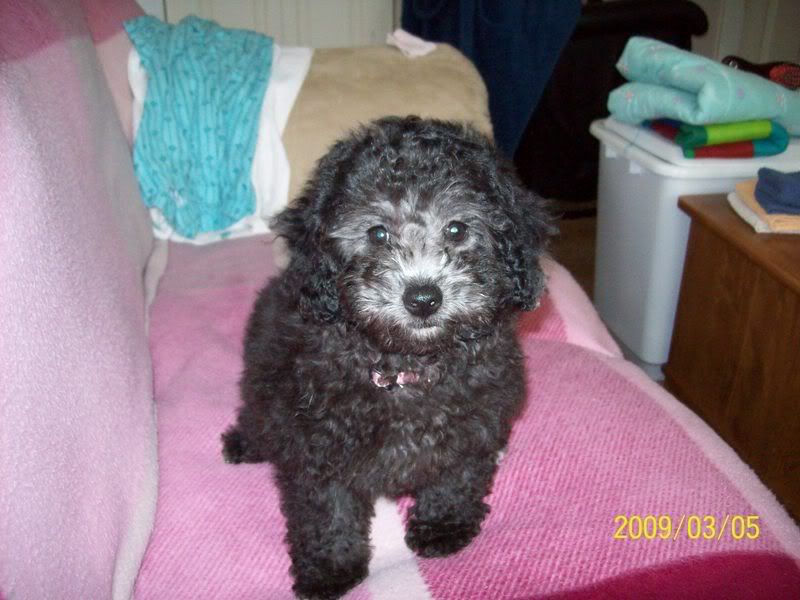 Her body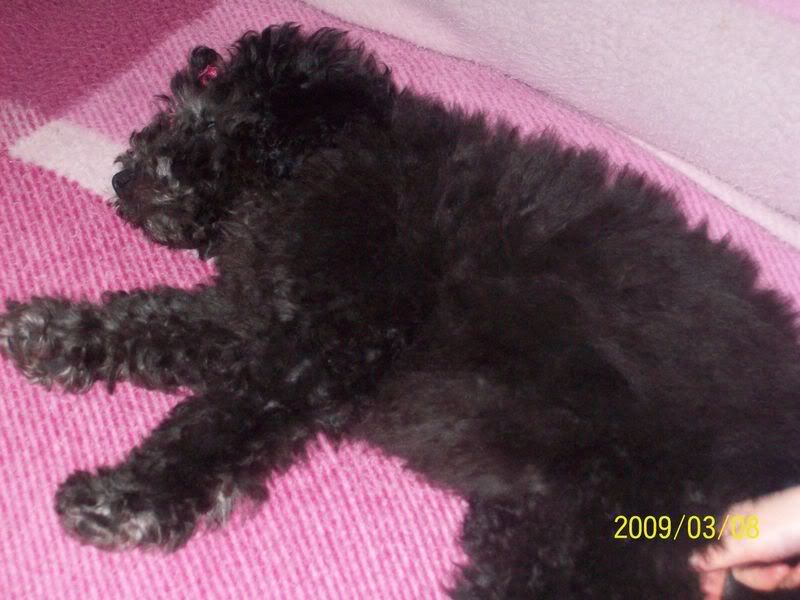 Her face again (she is very sleepy from a long walk lol)