Discussion Starter
·
#1
·
Now come on, how many of you have green dogs this week? I can't be alone
Wishing you all a super happy day!! Jazz dressed up because she didn't want to be pinched by Saleen. Now Saleen, who is to dark to dye is in trouble LoL.
here are a couple of additional photos
Jazz hopes you smile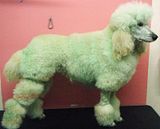 A body shot. Had to fiddle around with the color in this photo, my camera washed her out to almost white. I think I got the color wrong in this pic - she is a nice light-ish mint green. LoL, notice that food coloring doesn't cover up manic panic ROFL. The color didn't take on her ears or tail much at all.... they are a lovely dirty looking sherbert color. Nice. I guess I'm going to have to break down and cut it out.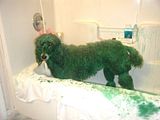 A photo of the first attempt last night, this stuff is MESSY!! LoL, It got everywhere.