Discussion Starter
•
#1
•
"I'm gonna get rich breeding dogs" How many times have we all heard this?
so I still have some of my oopsie puppies Ill get better/more pictures of them later...Im just plain too tired.
Work has been picking up and im fully booked four to five days a week.
We moved the pups at 10 weeks old to our kitchen. This is how it looks today!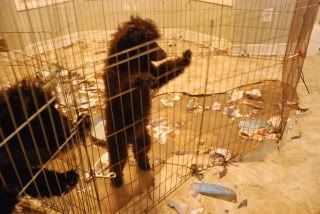 At least they aren't pottying on the floor, but they ripped up at least 8 square feet of lineoleum...its only 2 years old! But they are cute......
I don't even want to know how much it will cost to replace the kitchen floor.
ETA...This is just one day's worth of mess things to consider when you think that you want to breed fluffy and fido because "everyone will want one of your puppies, they are just too cute/precious/rare/whatever"