Discussion Starter
·
#1
·
Hubby and I went to the feet store today to get rat food. This is the type of feed and seed / farm and garden supply place that also carries pets and supplies. They provide the bare minimum for their animals and tend to breed a lot of their own stuff. All of their rodents and bred in house as are their guinea pigs and rabbits. They keep breeding animals on site all the time pretty much. They don't neglect their animals and they clean and such, but well.... you know, it just isnt the best of the best care wise. If it wasn't the only place to get the particular kind of rat food that I feed my clan, which happens to be pretty much the best on the market, I wouldn't even go in there. Buuuutttt of course anytime I do I just HAVE to look around. We go through the same routine every time we go in and it usually results in me pestering my hubby like a starving child for this animal or that or a new cage or whatever. I will say that you can find some good plants at this place as well as the occasional exotic animal that you just wouldn't expect to run across, like hedgehogs from time to time, or these awsome long tail finches. Neat stuff. Anywho we went through our little routine of looking at everything and then we measured out our 7pounds of rat food that we get and proceeded to the front counter. Right next to the counter was this little cage with a crazy rockstar looking guinea pig. On the cage was a sign that read Guinea Pig, 19.99, Cage, water bottle, and bowl included - Zypher, which I guess was his name. I commented that the cavy was probably somebody's pet and about that time it noticed us and started making all sorts of noises and crawling up on the bars of it;s cage to get out attention. The lady behind the counter, who's known me most of my life, confimed my statement and started telling us how sad it was and that he was soooo sweet and nice. A lady had come in a dropped him off saying she just didn't want him anymore. John didn't hesitate, he's comming with us. I'm not one to condone impulse buys like that but well.... every so often something just jumps out and grabs at you like this guy did. Before we got Jazz we were planning to get cavies from a breeder in alabama, so at least we already were prepared to take care of one. The nice lady at the counter, I have never known her name lol, 'forgot" to charge us full price for all of our purchases and said she knew he would have a great home with us.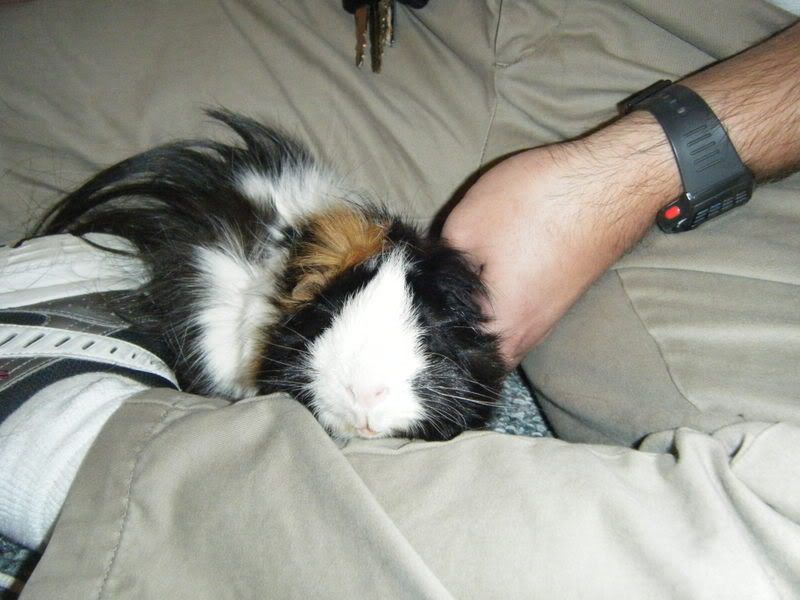 Isn't he cute??? How could we say no?
Poor little guy, look how tiny the cage is
We spent the rest of the afternoon purchasing supplies for a new cage and then building the new cage. Mojo, which he has been renamed, seems right at home. He's going to the vet tomarrow, I'll just pop him in and have him checked over - benifits of being a former employee - no appt required for small stuff
I'll also ask them to confirm the *** and see if that can tell how old he might be. After that my best friend (who is comming up from tampa to meet Jazz!) and I are going out on the hunt to see if we can locate a friend for Mojo, since hubby thinks he's lonely and I've read they are happiest in groups. Just to be safe purchased supplies for a second perminate cage for the new addition just in case Mojo decides he doesn't want a new friend.
I'm so excited. Hubby realized though a few hours ago that he told me back in October, You have to pick, you can have a poodle (we had just found Jazz up for sale on craigslist) or you can get the guinea pigs... either way NO MORE new pets until all the rats die - promise?! He looked at me over dinner and said " Dang it, I just realized you got the poodle AND the guinea pig !!) Poor Hubby.... he should have known better, he knew what he was getting when he married me.