Discussion Starter
·
#1
·
Hi there,
My name is Abe. Wow everyone here seems so helpful. Well I was recently given a poodle mix about a week ago. Her name is Luna and she is a poodle mix, I am still tying to find out what "mix" she really is. :tongue: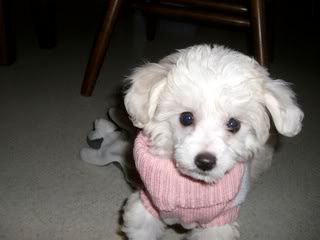 Anywhoo, she is adorable, but I do have s few questions since I am a first time dog owner:
1.) She is only about 10 weeks old and she has been with me for about 8/9 days, is it still normal for her not to respond to me when I say Luna. I am trying to do it with treats. it worked with potty, but sometimes she just completely ignores me and stares at me like " are you calling me? Oh well.:banghead:.."
2.) She is not a very affectionate puppy. She licks when she wants to, but sometimes seems more like i dont care! Lol. She seems to like other people more than me... I dont know why?
I'll leave it at this for now, but any advice or suggestions will be great. I love my new baby, but it can be very frustrating! I dont want to be the bad guy! Lol. She is "play pin" trained and does pretty good, but its her listening that is driving me nuts! Haha. I know she is a baby still, so HELP!:rainbow:
Muchas Gracias!
Abe