Discussion Starter
·
#1
·
Yesterday was great, it was one of those days that reminds me why I love grooming.
The bad part was there were only 3 dogs, the good part is that they were AWESOME.
my first one was a standard I hadn't groomed before. Didn't get any before/after pics, just one of him in the tub, he was a sweetie.
Then I had one of my favorite request customers, I've been grooming her since her first visit and she's wonderful and sweet and has been well behaved since 4 months of age. Sadly i didn't think to get a picture of her, but she's a fluffy poodle mix.
THEN! I had my favoritest dog ever, the poodle that made me want a poodle, Marley. His dad is the one who tries to keep him brushed out but always manages to miss some, this time he did great and only under Marley's chest was matted. He just gets one length all over on everything. he's keeping him longer now then he used to.
In the bath being a grubby poodle: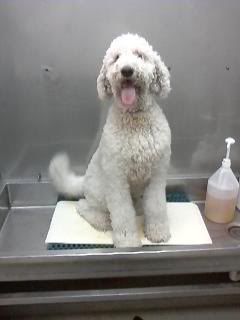 all nice and clean and ready to go. his face is a bit of a disaster, it's all drooly and stained. I wish he'd let me cut it down.
and then I have to share this one just because she cracks me up. She's a tiny toy poodle who's a bit psycho. But I love her craziness. One time she peed and pooped all over a groomer who tried to get her out of her kennel, another time she just rolled over and wanted her tummy scratched. She has some issues...
K the end, just wanted to share poodley love.