Discussion Starter
·
#1
·
Soo, hubby hates the lion clip, he's been complaining that it looks like she's only half groomed since I put the clip on her. He's also been complaining about the stripes and said he wouldn't mind if they were shaved off. Basicly he's just been griping about her hair in general. Sooooo I handed him the poodle grooming book by Kalstone and said here, YOU pick one! Well what did he pick out but the very cut I wished I could put her in when we first got her and the ONLY one I didn't think I could do, The English Saddle. He said she would look like the Michelin Tire Man. I have a standard that comes in who's mom wanted it and I told her no that it would cost her like 200 bucks and I didn't think I could even do it.
So, like a goober, I attempted it...
I clipped the pattern in yesterday while I was killing time waiting until it was time to go and set up for my obedience class. Today I I have most of my day blocked off for two standard poos who ended up no showing, (boy will that lady be surprised with her next grooming bill) so anyway I took a couple of walkin ins and a shelter dog but still had a little time to kill before my last appointment of the day so washed her and started the scissor work. It took longer than expected to dry her today, wow she's getting alot of coat, so once she was dry I only had about 20 minutes until my last appointment was due in. I just did a quick scissor on the back legs and pattern lines and topknot/neck.
I did attempt to do the little half moon kidney patch thingy on her side. I failed horriably. So I had to good sense not to repeat my mistake on the other side. Hopefuly the bald patch grows back in quickly :banghead: I photographed the none bald patch side
Still has the stripes buuuttt now they fade from a peachy pink with some yellow at the ends to a light fushia deep down in the coat and with her legs shaved you can see the change now and it looks awsome
Oh and Hubby HATES the cut ROFL!!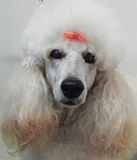 This is just a cute head shot with her perdy tied up topknot and a bow.