Discussion Starter
·
#1
·
Snapped a couple of photo's of Saleen's first couple of days with us and wanted to share.
Sacked out of my first bath by my new mommy
Trying to look adorable so daddy will carry me in from the front yard instead of making me walk on this evil leash thing.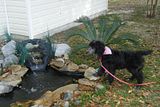 Checking out the fish pond (which doesnt have any fish lol)
Waiting for my sister Jazz to finish checking on the neighbors. I'm a spy in training!
She is such a doll, and yay friendly!! So far she isn't too frightened of anything and when she does get startled she recovers pretty quickly. No so super fond of the crate, but well.... I guess you can't have a perfect puppy right off the bat.