Discussion Starter
·
#2
·
More stuff to loook at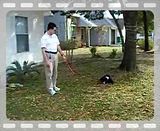 Daddy trying to get me to walk on a leash, ignore mommy in the background, daddy says she doesn't know everything afterall, but shhhhh we'll let her think she does.
ummmm yeah I did actualy overhear my hubby say this to MY puppy !! LoL. Jerk, and after the "special treatment" he got too.... Hummm he wasn't complaining that I didn't know everything then I notice...
Trying to play with crazy Nikki, whooooo she's fun!!