Discussion Starter
•
#1
•
Forum Friends,
Omigosh, puppies! An adorable and delightful way to spend pretty much ALL of your free time. I'm starting a 52 weeks thread for Violet, but I have no delusions of actually getting all 52 weeks captured here.
Violet is playful, confident, active, beautiful, loving, and silly. It has taken two adults and a 15-year-old (and an 18-year-old occasionally home from school and social life) to raise her these last two weeks. She is now sleeping through the night at 11 weeks old.
Potty training is going okay. A LOT of effort has been put into potty training- I have never spent so much time in my backyard at all hours and in all kinds of weather. I have learned that right before she poops there is a mad run followed by a few hops, and then she gifts me with a poop. I have also learned that if both my husband and I take her to her potty area and exclaim over her (how cute she is!! Haha, look at that hop!) then we distract her and she can't do her business. The little lady requires some peace and quiet to get the job done.
Navy (my older dog) has lost his horrified expression, but frequently stares at me with the hairy eyeball as if to say "she's leaving soon, right?" However, he will play with her a little bit. She is in awe of him- and desperately wants his attention. He gives her about 2 minutes of positive attention a day- ha. Basically I feel like this part of a new puppy is going well. As far as Spanky the old pug goes, we keep them mostly separated because she pesters him too much.
Okay, now for some pictures:
6 weeks: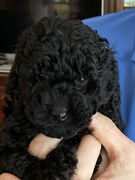 Gotcha Day at 9 weeks: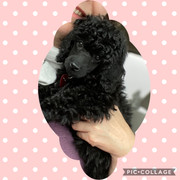 First week home: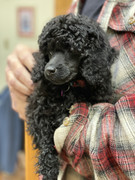 She's got toys: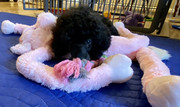 I just can't get over how beautiful she is: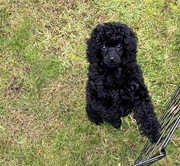 Toe beans!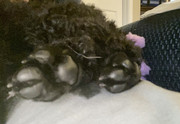 My house is in shambles, but puppy is having a good time:
Violet's interactive toy box (it was fun for 20 minutes):
Teaching her how to take a selfie. She has booped my phone screen several times- but so far has not made any international calls.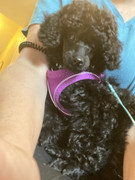 Violet is all the about the FUN in life: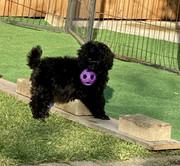 I hope you all have a happy Thanksgiving! If I'm slow to respond, know that I am probably busy racing after a puppy in between bites of pumpkin pie.