Discussion Starter
•
#1
•
Meet Sachii.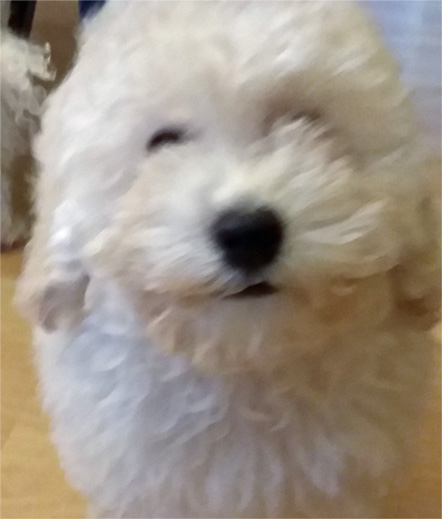 ​
I am thrilled! He's my 12 week old toy poodle, and how he came into my life is a strange story. My breeder called unexpectedly late last week. She had considered keeping him but she'd been furloughed for a month, like many others particularly in my area. On Friday the Shutdown ended temporarily for the next three weeks. I asked if she were sure before visiting, and she said yes since there's still uncertainty for federal workers.
Thus, Sachii is a Shutdown baby.
I had my dogsitter drive me to my breeder's place on Saturday; this was so I could hold the puppy on the drive home so that his first car ride would a calm experience.
So I checked out the little guy and his mom. They are just beautiful and the temperaments are so easy going and friendly. I think he's going to look and be chill just like her. Here's a pic of the two on Gotcha Day, with Sachii on the right:
I named him the next day, and wanted a unique name, which is pronounced
Sah-chee.
Both parents are Champions; three of the four grandparents are champions and a Grand Champion. He comes from great lines and both parents are clear of all genetic conditions.
*******​
Learning from past mistakes:
1) When I got Bella back in late October 2017, I drove alone to the breeder's. On the ride back, she panicked in her new carrybag and barked and howled enough to wake the dead. To this day she's anxious in cars, although she's okay in the carrybag as long as I'm holding it. Thus with Sachii, I avoided that boo-boo by having my friend and dogsitter drive.
2) The Crate. When I got Bella, I made a major mistake by putting her in a playpen next to my bed when I took a nap that day. She could not understand why she was apart me in a strange surrounding w/o her mom and siblings. Bella's non-stop barking could wake the dead. She still has zero tolerance for lockdowns, and I think she has Containment Phobia.
This time
, after being home for few hours, I placed Sachii in the kennel cage in my LR (which has only been used as sorta table top my PS4). I then took Bella to the BR (which Sachii hadn't seen) and took an hour nap. He whined for ten minutes, but must have thought we were gone - and settled down.
When night time rolled around, I placed him back in the cage, which is big enough for bedding and a wee-wee pad. Eventually he'll sleep with me, but he's not completely housebroken, plus Bella was a little jealous and insecure. Again, he whined ten minutes, and was quiet and slept all the way thru the night!
Since then I can place him in the kennel any time with no whining when I'm sitting right next it while Bella eats first. Otherwise the plan is the two will be at the sitter's house on days I work for the next two weeks, then scale it down to three days/week and eventually back to two days/week.
Dinnertime & Playtime!
I've been keeping them apart during feeding time until Bella is really comfortable with Sachii. He wants to play with her a lot, and so far she will up to a point, then stop and want to play only with me. Well, at least both fetch the mini-tennis balls.
So that's my new puppy!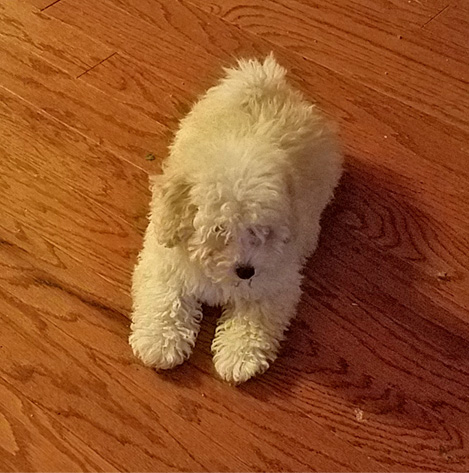 ​