Discussion Starter
·
#1
·
17 years ago, when I was only 8, I was reading the book "The Magic Faraway Tree" by Enid Blyton. I loved the little fairy called Silky, and the nice old Moon-Face with the magic tree! I was waiting for mum to come and pick up me and my brother after school, we'd moved to a house that was 'ages away' from school, but there was only a week or two left before the end of the year and we would be on holidays, so it didn't matter much; we'd be going to a new school closer to our new house next year. We'd also be getting some kittens after the silly season, one each for me and my brother, and I was so excited.
Mum pulled up in the car, she was late, but I had my book so was happy to wait. She is calling to us as we get to the car, urgently saying something through the closed windows. I had to open the door to hear what she was trying to say, but she told me to hurry up, "just get in and shut the door". I was worried; what was wrong!??
Me and my brother bundled into the car in double quick time, me in the front, my brother in the back, mum urging us to get the doors closed straight away. What's wrong!??
A mew.
A pair of eyes.
A ginger striped tail beside my brother on the back seat.
A kitten! Mum, you got us a kitten!! "There's another one under your seat."
Me, being 8 years old and flexible, am bent in the most contorted way to try and see underneath the front seat of the car where I get hissed at by a pair of bright yellow eyes and some sparkly white teeth, set in an inky black face. I try to reach it, all I can feel is fur as soft as silk but I can't get a grip on it. I have to sit still on the long drive back to our new house, knowing full well that I have a black kitten under my seat the whole way. I claim the black one, the ginger one is scared but timidly sitting by my brother, my little black one is fiercely defending it's spot under my seat. I can spy the spunk in it, and I want a part of it.
Mum tells the story of how the two of them turned up at the local dump when she was dropping off some rubbish before coming to collect us. There are no houses around for them to come from; they'd been dumped. They had come up to mum, just one at first. She put it back claiming we were only wanting to get two kittens together; one each for the kids. The second one came out, so she bundled them into the car. My brother called the ginger boy Rascel, and I named my black minx Silky, after my favourite character in my favourite book, and her wonderful silky coat. She was a family cat, but always had a special place for me. An amazing hunter on the farm, and a wonderful house cat when we moved to town. Always ready for a cuddle through my teen years when I needed it. Her high pitched 'siamese' meow when she wanted food that I can still hear in my mind. Her obvious joy when, after a long absence, and she heard my voice. I left her with the family when I moved out of home, but she was still 'my' cat.
17 years ago, when I was only 8 years old, Silky came into my life.
This afternoon, at 2pm, she left.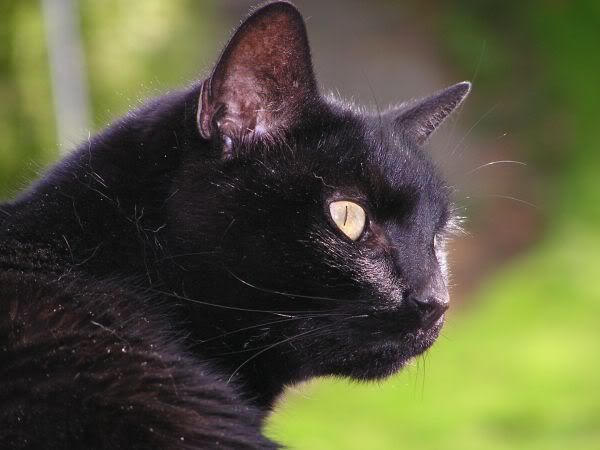 about 2005-ish
august 2008
Rest in peace my girl. You meant so much to me. You are pain free and at rest now.