Rebecca asked me for some pics of Sugar's crazy head, so I thought it would be fun to have a thread specifically about "poodle heads." We all know how versatile that wonderful poodle hair is, and how their whole look can be altered with a few snips or passes of the clippers.
So, please post poodle heads, anything from rounded topknots to full faces to various kinds of mustaches and ear styles. If you groom them yourselves, please provide a little insight into how you did it. Give thoughts about why you chose that style and what you like / don't like about it. Poodles of all ages, too, especially if you have a progression of topknot hair growing out. Show it all!
I like the show puppy look in poodles, but with the summer heat, and Sugarfoot proving sensitive to it, I decided to take his body down. But to me, the full head with a banded topknot is the quintessential poodle look, and I didn't want to give it up. So, I left a full head while zipping his body down short. Frankly, the whole look is a bit goofy, giving the impression of a lanky rebellious teen who insists on his cloud of puffy, wavy hair despite all urgings of aesthetics or common sense, but it works for him, for now anyway.
(Please forgive the background of various cleaning products in the following pictures. They were taken in my grooming / laundry room.)
Side view, brushed, unbanded
Front view, brushed, unbanded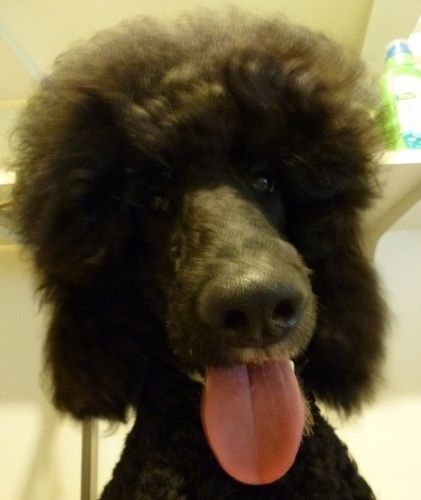 I call this look the "Don King."
Back view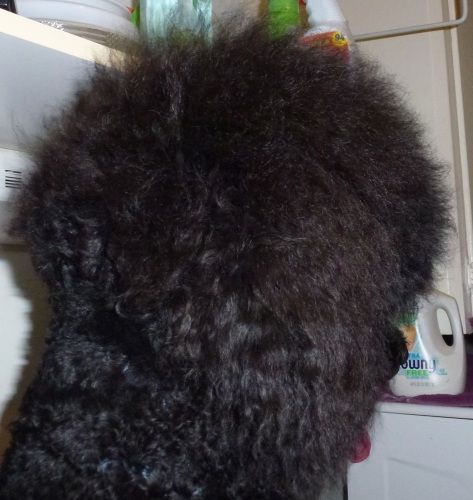 Here you can see where I tried to round the back of the neck leading to the head a bit, trying to soften the harsh transition between the very short body and the very long head.
Front view, banded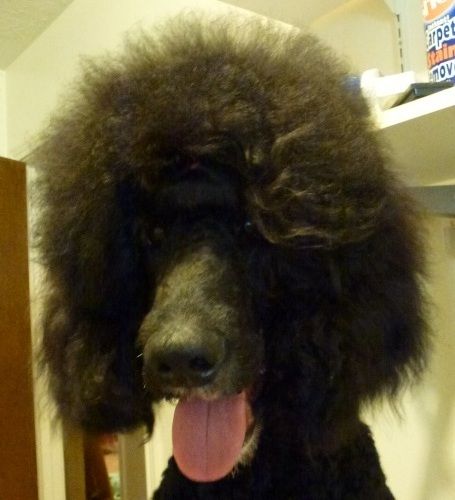 Just one rubber band. Later I put in another rubber band just one small layer behind the first, to keep the hair a little further from the eyes. I also like putting two rubber bands--"devil horns"--one over each eye. This is trickier to get right, though, as you want them exactly the same size and spaced perfectly.
Anyone else want to share head shots?
--Q