We adopted a grown spoo without any obediencetraning at all, he had been living in a dog pound with other dogs his whole life(he was 2 years old when we got him). Getting a high degree of obedience isnt that complicated, but it does require perserverance. We spend alot of time training, with positive reiforcement only.
We did go a few courses with him, at different dog trainers. But there isnt any magic way with "super dog trainers", the only thing that works is hard work, hard work and more hard work, and then some more hard work again.
Me and my whife have spent alot of time on tightening the band between us and our spoo. Since i work shifts he is never alone, this is proably one key factor. He is alowed to sleep in our bed, often with his head on my shoulder. We never use punishments or corrective training, a simple "no!" is the only thing required when he looks at us for permission to chase after a cat for example. This has made him a submissive pack member in our familly, always following us around waiting for something fun to happen. Since we dont have any kids we can give him 100% attention.
It is often forgotten, but a spoo is a predator with 20kg of muscle and 30mm fangs, discipline is essential. Just as when wolves were domesticated in sweden 10.000bc, he keeps me and my whife safe and warm(wakes us in the middle of the night when someone is approaching, keeps goats/sheep/livestock away from us when we are hiking, keeps us warm when we sleep, and fetches things/turn on lights. And we provide him with food, shelter and love.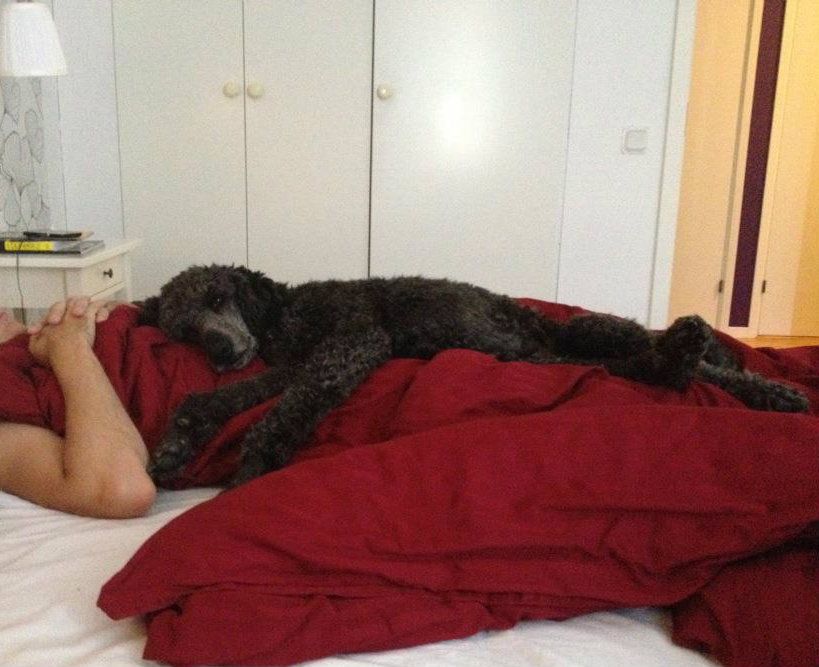 There is no simple way, its just about the amount of effort you put into it. Its just with kids, if you give them a warm and loving environment with positive atmosphere they grow up alot better than if you spank them and punish them. CT is best used on toy robot dogs because it wont cause any damage. Use it on a real dog and it will become agressive, leading to a need for harder punishment every day and presumably ending in a 20kg predatore with 30mm fangs that really hates you(not good!)
Something that makes me laugh everytime is when im out walking with Bambi and see someone with a loose dog thats not comming back to their owner, and the owner is yelling and sounding really mad. As the owner gets more and more angry the dog goes farther and farther away. When i call on bambi he comes to me because he knows that i will give him a treat or a backrubb, and play with him.